Perth, Western Australia, Australia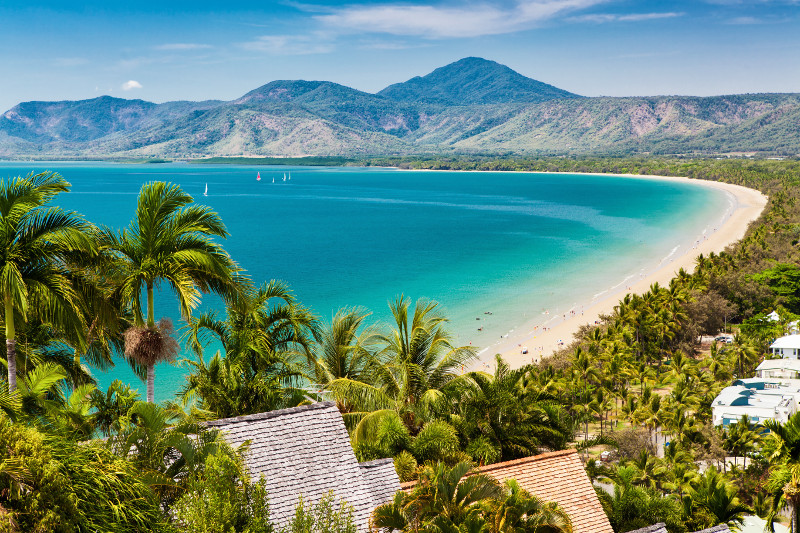 Airlie Beach, Queensland, Australia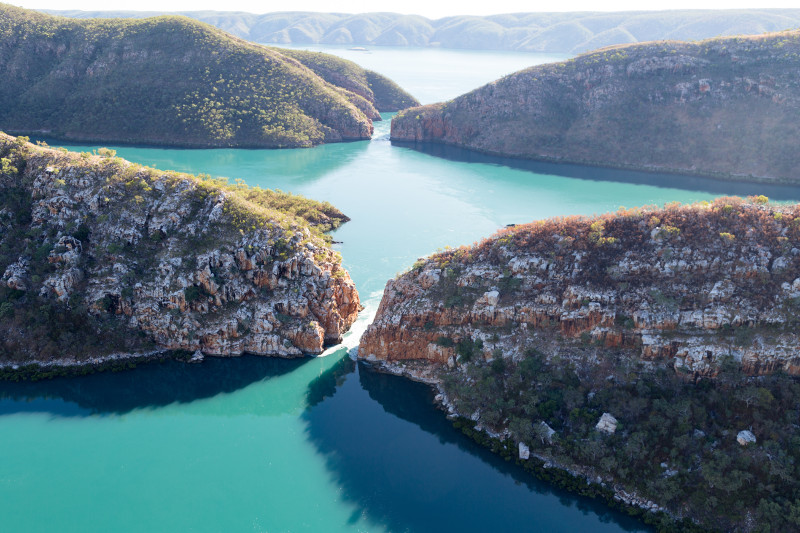 Darwin, Northern Territory, Australia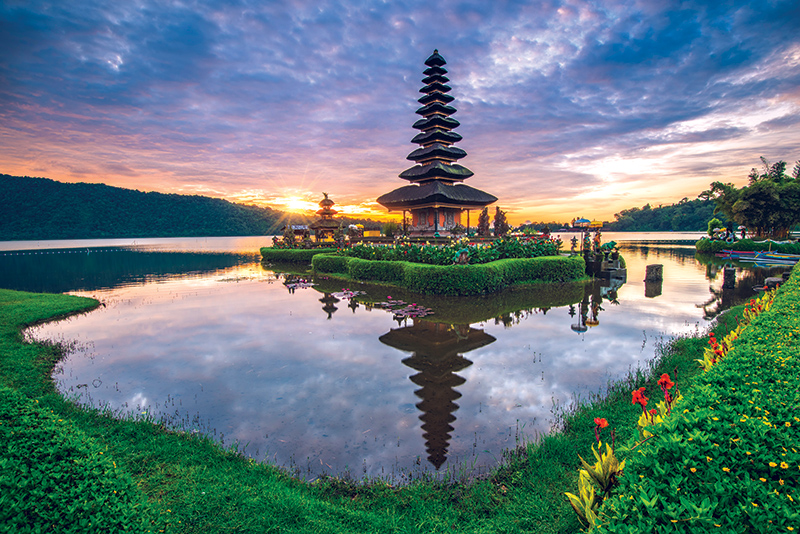 Bali, Indonesia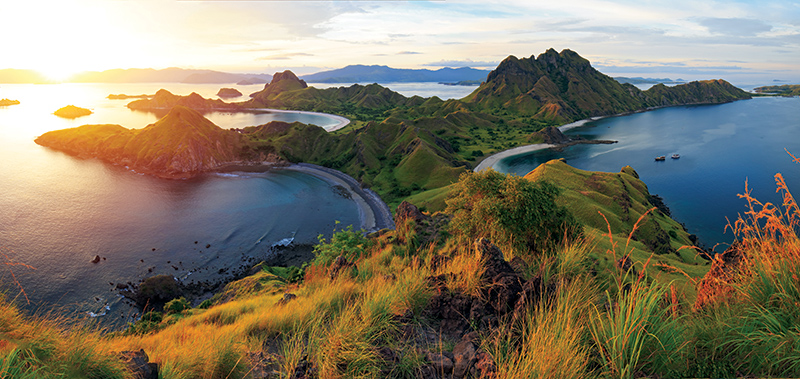 Komodo Island, Indonesia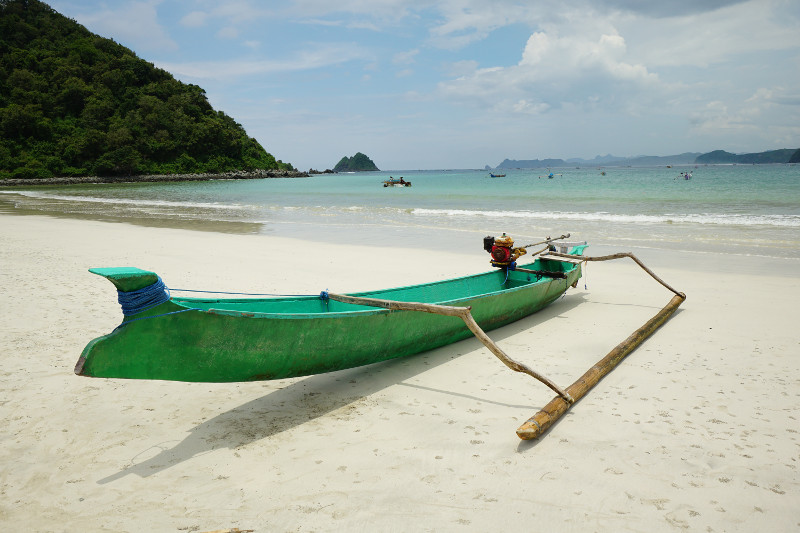 Bali, Indonesia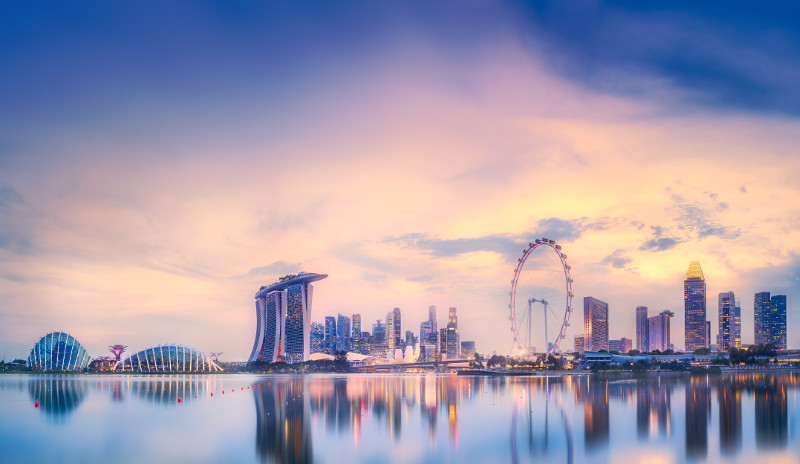 Singapore 

Sydney to Singapore
-------------------

Cruise Holiday

-------------------
20 Day Adventure
Holland America Cruise
Australia & Indonesia
20 Day Cruise Holiday - Holland America Cruise
20-Day Australia & Indonesia Explorer
Maasdam showcases the world at its most engaging, authentic and personal. Every voyage features fascinating lectures, interactive workshops, cultural performances and memorable shore excursions to immerse you in each unique itinerary through some of the world's most exotic locales. And being the only Holland America Line ship outfitted with nimble, inflatable Zodiacs, on select port calls you can explore further than ever before.
Sailing date: 04 January – 21 January 2021
Must Book By: 01 Oct 2020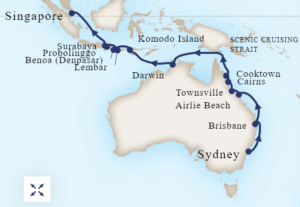 Interior Stateroom
per person based on double occupancy, Category L
Sailing dates:
04 January - 21 January 2021
Category L - $4,626 per person
Category K - $4,679 per person
Package Inclusions:
All shipboard meals, all shipboard entertainment, complimentary Bottle of Wine in stateroom, 1 complimentary cocktail Party – 1 hour standard with hot hors d'oeuvres per guest, and all taxes, fees & fuel surcharges.
Price reflects exclusive Downunder Travel price within
MUST BOOK BY: 01 Oct 2020
Prices do NOT include airfare.  Prices above are per person, based on double occupancy.
Ocean-View Stateroom
per person based on double occupancy, Category FF
Sailing dates:
04 January - 21 January 2021
Category FF - $5,019 per person
Category F - $5,069 per person
Category EE - $5,129 per person
Category DD - $5,229 per person
Package Inclusions:
All shipboard meals, all shipboard entertainment, complimentary Bottle of Wine in stateroom, 1 complimentary cocktail Party – 1 hour standard with hot hors d'oeuvres per guest, and all taxes, fees & fuel surcharges.
Price reflects exclusive Downunder Travel price within
MUST BOOK BY: 01 Oct 2020
Prices do NOT include airfare.  Prices above are per person, based on double occupancy.
Verandah Suite
per person based on double occupancy, Category BA
Sailing dates:
04 January - 21 January 2021
Category BA - $9,569 per person
Category B - $9,699 per person
Category A - $10,219 per person
Package Inclusions:
All shipboard meals, all shipboard entertainment, complimentary Bottle of Wine in stateroom, 1 complimentary cocktail Party – 1 hour standard with hot hors d'oeuvres per guest, and all taxes, fees & fuel surcharges.
Price reflects exclusive Downunder Travel price within
MUST BOOK BY: 01 Oct 2020
Prices do NOT include airfare.  Prices above are per person, based on double occupancy.
Sydney
Brisbane
Cairns
Airlie Beach
Townsville
Cooktown
Great Barrier Reef
Torres Strait
Darwin
Komodo Island
Lembar
Benoa (Denpasar)
Bali
Surabaya
Singapore
TRIP ITINERARY
33 Days: Sydney to Singapore
Day 1: Depart Sydney, Australia
If you want a snapshot of Australia's appeal, look no further than Sydney: The idyllic lifestyle, friendly locals and drop-dead natural beauty of this approachable metropolis and its attractions explain why the country tops so many travelers' wish lists. But Sydney is more than just the embodiment of classic antipodean cool—the city is in a constant state of evolution. A list of what to do in Sydney might start with the white-hot nightlife, with its new cocktail bars and idiosyncratic mixology dens. Inventive restaurants helmed by high-caliber chefs are dishing up everything from posh pan-Asian to Argentine street food, while the famous dining temples that put Sydney on the gastronomic map are still going strong too.
Day 3: Brisbane, Australia
Queensland's capital, tucked between the Gold Coast and the Sunshine Coast, is often overlooked in favor of its stylish sister, Sydney, and its cultured cousin, Melbourne. But Brisbane, or "Brissy" for short, has recently come out of the shadows to show off its own variety of sun-drenched cool. Brisbane may be a contender for Australia's hippest city, thanks to its clutch of crafty bars, eclectic restaurants and homegrown fashion. The city's subtropical climate brings joggers and cyclists to the banks of the Brisbane River year round; jacarandas and frangipani bloom in the spring. This is one of the country's fastest-expanding areas in terms of population and employment: People flock here for the affordable lifestyle, the booming economy and the laid-back attitude. When newcomers arrive, creativity follows, as evidenced by the museums and theaters of South Bank and the revived districts such as Fortitude Valley. Fortitude is a good word for Brisbane—a hardworking city on its way to fame and fortune.
Day 5: Airlie Beach, Queensland, Australia
Airlie Beach is the gateway to the Australia of your dreams. Although the Queensland town offers many antipodean delights such as palm-fringed beaches, a huge man-made lagoon and alfresco dining, there's a great reason to head straight out of town: This is the jumping-off point for the magnificent Whitsundays, a group of 74 islands that are famous for their timeless natural beauty, white-sand beaches and crystal-clear water.Your options here are pretty much limitless—charter a boat and sail around the archipelago; snorkel or scuba dive the Great Barrier Reef; or snap the perfect selfie on sublime Whitehaven Beach, consistently named among the best beaches in the world. There are many other activities closer to shore—from kayaking to glass-bottom boat tours—as well as hiking through lowland tropical rain forest in Conway National Park, for those who want to keep their feet firmly on the ground. And if you're simply looking to kick back with a drink in hand and enjoy the magnificent views, head to cosmopolitan Hamilton Island, the largest inhabited island of the Whitsundays, for its stylish restaurants and bars.Note: Stinger (jellyfish) season in the Whitsundays is from October to May; you're advised to wear a stinger suit in the water during this time.
Day 6: Townsville, Australia
The Townsville region in North Queensland, Australia is a bustling and vibrant destination boasting diversity in landscape, lifestyle and experiences. Experience barra fishing in the Burdekin or Hinchinbrook, snorkeling fringing reefs around Magnetic Island, scuba diving on the Great Barrier Reef, bird watching at the surrounding wetlands, skydiving The Strand in Townsville, or taking a wagon ride in Charters Towers. With reef, rainforest, outback and wetlands all within easy traveling distance of Townsville, Australia's spectacular natural wonders await your exploration.
The gateway to Australia's Great Barrier Reef and the tropical north of the country, Cairns sits on the east coast of the Cape York Peninsula in northern Queensland. This laid-back city is popular with travelers who depart from here for days of sailing, diving, snorkeling and trekking through nearby parks—a celebrated launching pad especially for those who want to explore the reef, the Daintree Rain Forest and other attractions of this part of Queensland. And what better place to start one's adventure? The residents of Cairns are welcoming, the beach life fantastic and the climate consistently sunny and warm.
Day 8: Cooktown, Australia
Named for Captain James Cook, who beached his ship the Endeavor here in 1770, Cooktown was the first meeting place of Europeans and Aboriginals — and the first kangaroo sighting by a European.
Day 9: At Sea (Great Barrier Reef) & Scenic Cruising Torres Strait
The world's largest coral reef is staggeringly beautiful. As you cruise along the Queensland coastline, you'll start to understand why the Great Barrier Reef was named one of the Seven Natural Wonders of the World. Above the water are hundreds of coral cays and sun-soaked, white-sand islands, while the thousands of reef systems below water are home to a mosaic of marine creatures. The great reef stretches for 2,300 kilometers (more than 1,400 miles)—about as far as the distance from Vancouver to Tijuana, Mexico. Due to its immense size, it's the only living thing on Earth that is visible from space.
Queensland's Cape York Peninsula stretches northward like a long arm, with the Great Barrier Reef running parallel to the east. Cape York, at the end of the peninsula, is the northernmost point of the Australian mainland. Past the cape, the Torres Strait Islands continue onward toward Papua New Guinea, creating a maze of tropical islands and reefs that divide the Coral Sea from the Arafura Sea.Only 14 of the strait's 274 islands are inhabited. The languages and customs vary from island to island—the people have largely maintained their indigenous cultures, a mix of Australian Aboriginal, Melanesian and others from Papua New Guinea.
Day 11: Darwin, Australia
Surrounded on three sides by the turquoise Timor Sea, the Northern Territory's capital is closer in both distance and temperament to Southeast Asia than it is to most of Australia's major cities. The lifestyle here is tropical, which means a relaxed atmosphere, balmy weather, fabulous fusion food and vibrant outdoor markets.
This cosmopolitan city has fewer than 140,000 residents, but they include some 50 nationalities. After heavy bombing in World War II and a disastrous cyclone in 1974, Darwin has been largely rebuilt, and it's modern and well planned. In the downtown area you'll find everything from great shopping to a crocodile park. You can trace the region's dramatic history at innovative museums and gallery-hop to see indigenous art. After your sightseeing stroll, have a late lunch at one of the many excellent restaurants. The food options range from authentic Malaysian dishes like laksa, a spicy noodle soup, to a plethora of fresh seafood—mud crab, barramundi and more.
JAN 15, 2021 - JAN 16, 2021
Day 14: Komodo Island, Indonesia
Indonesia is easily one of the most exotic destinations on Earth. But coming into port in Komodo—located between the islands of Sumbawa and Flores, in the eastern part of the Indonesian archipelago—feels like arriving on an entirely different planet. The major draw here is, of course, Komodo National Park, a UNESCO World Heritage Site and biosphere reserve since 1992. The region is home to roughly 5,700 Komodo dragons, which are, in fact, lizards—and the largest lizards in the world at that, growing to lengths of three meters (almost 10 feet).
The dragons are best seen during tours that head to the islands of Komodo and Rinca, which along with the island of Padar make up the park. In addition to marveling at the feeding habits of the dragons (they can often be seen preying on Komodo's native Timor deer and water buffalo), visitors are impressed by the diversity of Komodo's landscapes. On the one hand, there are pristine white-sand beaches and even pink-hued ones, lapped by clear blue water. Offshore coral reefs are home to over 1,000 species of tropical fish as well as whales, dolphins, dugongs, manta rays and sea turtles. But there are also rugged and sheer cliffs here and hot and dry regions with savanna-like grasses. Prepare to feast your eyes on one of the world's truly special untamed places.
Day 15: Lembar, Lombok, Indonesia
While the distance between the Indonesian islands of Bali and Lombok is small, 35 kilometers (22 miles), the islands are worlds apart. The former is lush and green, the latter drier and scrubbier. Bali is mostly Hindu; Lombok, like most of Indonesia, is predominantly Muslim. Even the animals and birds are different on the two islands, as they sit on opposite sides of the Wallace Line (discovered by the 19th-century naturalist Alfred Russel Wallace, it marks the boundary between areas populated by Asian and Australian fauna). For the traveler, an essential difference is that while Bali welcomes thousands of visitors each year, Lombok remains largely under the radar, offering a look at Indonesian life on an island without large resorts or tour buses.
Mataram, Lombok's largest town, has a few sights, the most notable being the temple-mosque complex of Pura Lingsar. Dominating the entire island is Indonesia's second-largest volcano, Gunung Rinjani, and even if you don't attempt to reach its summit, a walk along its trails offers glimpses of birds and monkeys and views of the entire island. Finally, the beautiful Gili Islands, even smaller and more off the beaten path than Lombok itself, are worth the journey to reach them.
Day 16: Benoa (Denpasar), Bali, Indonesia
Indonesia is made up of more than 13,000 islands, but even with all that competition, Bali manages to stand out. Beautiful temples and shrines of all sizes are spread across the island, tucked down narrow alleyways, hidden within the jungle or serenely presiding over scenic locations, like the dramatic Pura Tanah Lot atop a rock formation just off Bali's western coast.
Bali is well known for its arts—traditional music and dance, painting, wood and stone carvings, silver jewelry and ikat and batik textiles. The island's artistic center is the village of Ubud, and its art markets and boutiques carry beautiful Balinese pieces to take home.
When it comes to dining, whether you're craving a burrito or satay, you can find a restaurant that serves it. Don't leave the island, however, without sampling Balinese cuisine. Local cooking, which reflects Chinese and Indian influences, uses blends of aromatic spices to season grilled meats (though not beef—Bali is an island of Hindu culture in mostly Muslim Indonesia), fresh seafood, rice and vegetables with delicious results.
Day 17: Probolinggo, Java, Indonesia
Probolinggo is a pretty port town on the north coast of East Java that's home to the ethnic minority Tengger people. The city garners mainly tourist attention as a jumping-off point for visiting Mount Bromo. One of Indonesia's most spectacular volcanoes, Bromo is best viewed at sunrise but makes a strong impression any time of the day. While the top has blown off, the 2,329-meter-high (7,641-foot) peak contains a cone that's still active. And views of the surrounding volcanoes from here are just as thrilling. If you opt to stick around Probolinggo, a town of roughly 217,000 people, you'll be pleasantly surprised. There are none of the stifling crowds and pollution of Jakarta here. A pedicab tour is a fun way to get around to see the city's Chinese temple, pleasant city square, churches and museum. But the main sites are just as easily visited on foot. There are beautiful beaches, temples, waterfalls and bamboo forests to see in and around Probolinggo. And just seven kilometers (four miles) from town at Bentar Indah Beach, you can go for a swim or stroll along the white sand. Before leaving, shop for a typical batik from the region to take home as a souvenir.
Day 18: Surabaya, Indonesia
Indonesia's second-largest city and Java's capital, Surabaya is known as the City of Heroes thanks to the important role it played in capturing international attention during the country's revolution in the 1940s. And that independent spirit is still palpable among the metropolis's internationally diverse population of nearly three million people. Surabaya is home to Indonesia's only synagogue as well as the largest mosque in East Java. And colonial-era buildings sit just a short stroll from glitzy new shopping centers. Visitors have much to experience, whether taking in the extensive artifacts in the Museum Mpu Tantular, seeing where Indonesia's clove cigarettes got their beginnings at the House of Sampoerna or venturing into the city's green lung with a boat ride through the mangrove forests of Wonorejo. You'll feel transported to a Middle Eastern bazaar at the Pasar Ampel, where the vendors hawk spices, sticky sweet dates and imported carpets. And a visit to Kenjeran Beach, right in the city, offers the chance to spot fishermen showcasing their fresh catch or take in views of one of Indonesia's longest bridges. Obviously, deciding where to spend your time will be your main conundrum in Surabaya.
JAN 22, 2021 - JAN 23, 2021
City-states are rare in the present day—and none are quite like Singapore. In the 20th century, the Southeast Asian nation hurtled itself into the modern world, and it continues to expand its state-of-the-art transportation system and build its edgy skyline. Yet Singapore's urban plan wisely maintained its intimate neighborhoods, many with streets lined with colorful shophouses (a type of building unique to parts of Asia, with businesses located on their ground floors and residences above). Add the city's mix of ethnic groups—mainly Malays, Chinese and Indians—and you get a vibrant cultural scene that attracts a cosmopolitan, international community.
Singapore's food scene—which is arguably the world's most dynamic and runs the gamut from beloved street hawkers to Michelin-starred venues—would merit a trip alone, as would its never-ending shopping options. But the city is also packed with world-class museums, many designed by celebrated architects, and it hosts many major international events, such as the Formula One Grand Prix. Yet only about half of the 720-square-kilometer (278-square-mile) island is developed, which leaves plenty of room for parks and open spaces such as the Bukit Timah Nature Reserve, where an old-growth forest still thrives.
Enquire Now!
about Australia & Indonesia
Trip Code:

Loading Terms & Condtions...
Experience
The Difference

With

Downunder Travel
Create Your Dream Vacation
At Downunder Travel you are not restricted to our ready-made packages.
We can customize and build a trip just for you!
What you need to know
Information and Facts
Search and find your
next adventure
See our reviews
Read our client reviews
Share Your Positive Experience