Book Now—Enjoy Now. And Pay Later!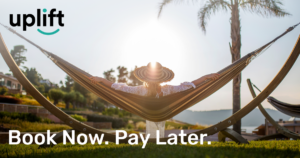 We've partnered with Uplift – a temporary loan provider and leading Buy-Now-Pay-Later solution that empowers travellers with simple, transparent payment options.  This way, there's no financial strain when planning your dream holidays—nor are there any surprise-fees or debt traps.
As there may be this pent-up desire to travel again with trending terms cropping up like "revenge travel" – referring to the belief that there will be a huge increase in travel bookings once borders reopen in the not-too-distant future – why not get a head start and book for travels just as you save up?  When you book, you don't have to pay for the entire vacation upfront.  In fact, Uplift allows you to pay in small monthly fixed installments for up to 12 months!  This is the perfect option for those looking to travel straight away but are unable to afford their holidays at this time.  Or for that getaway in a year from now that you'd like to pay in small parts while managing your budget.  Furthermore, Uplift gives you the option to adjust your payments as-needed when life happens.
With uplift, travellers won't have to worry about late fees or pre-payment penalties. We're here to simply help our customers enjoy a flexible way to make thoughtful travel purchases.  Connect with one of our Destination Specialists about how we can make your travel dreams become a reality with the Uplift payment model.