What is Flytographer ?
It's like having an extra person with you on vacation simply to snap professional, high-quality images of your travels that you can keep forever. Flytographer works with professional photographers in over 200 cities across the globe.  Flytographer's local destination photographers have been carefully vetted for talent and personality, so you need not worry about the quality of your images.  Hiring a vacation professional photographer – complete with a professional portfolio – is probably one of the best ways to capture your vacation memories.
Is Flytographer in Australia?
Yes, Flytographer is in Australia – Sydney, Brisbane, Melbourne, Gold Coast, Perth & Hobart… with cities being regularly added.  And Flytographer is also available in some locations in New Zealand and the South Pacific as well as various regions throughout Asia and Africa.  These are many of the locations we happily send travellers to regularly.
Since these far-distance vacations are considered special trips as they're planned well in advance and are travels that are not taken often, engaging in Flytographer to capture your priceless once-in-a-lifetime memories together is definitely a good idea. Plus, what a great way to capture memories if you're celebrating a honeymoon, a milestone birthday, retirement, etc.
How to book Flytographer
Head to Flytographer and select the destination you have booked, or are planning on booking with us.
Peruse the location photographer's portfolios online and contact your chosen photographer directly to set up a time to have the photoshoot–we recommend booking your session a few days after arrival as to 'acclimatize' to your surrounds and hopefully be clear of jetlag! When you book your session, be sure to use our link for 10% additional photos.
Once you book your Flytographer session, and you're in your destination, you'll get to enjoy short, fun and candid shoots that are stylish.  As a bonus, your photographer can double as a local friend sharing insider tips, great restaurants to dine at and more as they discreetly snap beautiful memories that capture your vacation story forever.  Once your session is complete, packages will be sent by email 5 days after your shoot with a link that will include a beautiful online gallery to view, download and share your photos.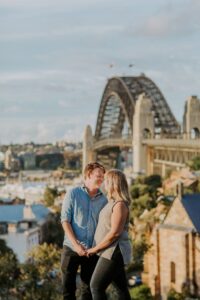 (photo: Rebecca in Sydney for Flytographer)
Memories always make the best souvenirs, and connecting with a local is part of the magic of vacationing.