Delhi

Colours of India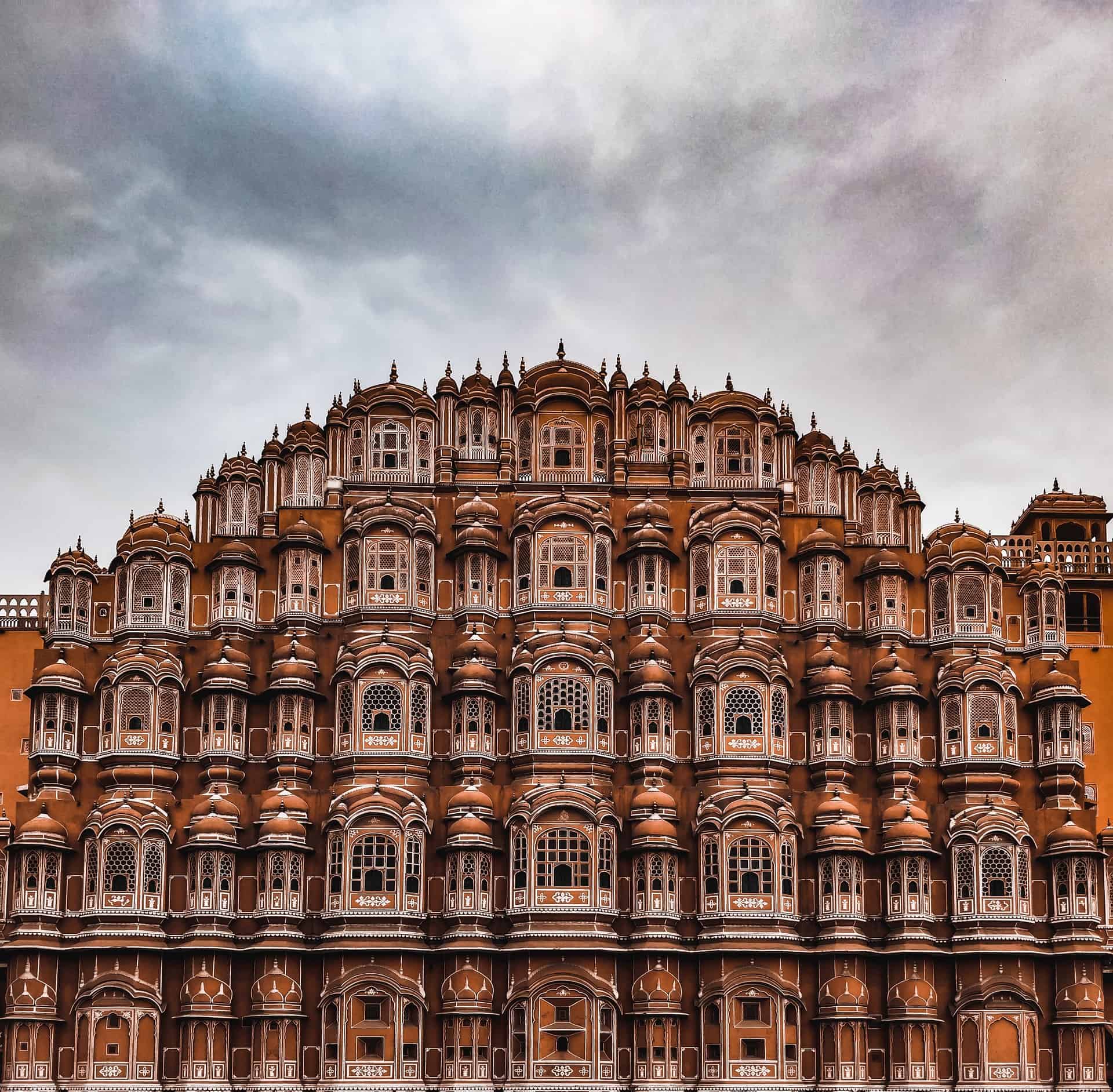 Hawa Mahal, Jaipur



Amber Fort


Taj Mahal
Delhi to Agra
-------------------

Small Group Travel

-------------------
11 Day Adventure
Delhi to Agra
35% Off India
11 Day Small Group Travel - Delhi to Agra
BOXING DAY SPECIAL – 35% OFF!
Visit incredible India and enjoy "Champagne on a Beer Budget" as you'll stay in 4 & 5-star authentically Indian accommodations.  This 11-day vacation includes much of the country's important historical and cultural sites as well as India's UNESCO World Heritage Site, The Taj Mahal. India's capital & a major gateway to the country, Delhi, is a contemporary and bustling metropolis that successfully combines in its fold the ancient & the modern. New Delhi also reflects the legacy the British left behind.  In Nawalgarh, you'll visit the Shekawati region, renowned for the havelis, majestic forts and folklores. In Jodhpur, your city tour includes visiting Mehrangarh Fort. This spectacular fort is made from red sandstone stands on a perpendicular cliff above the skyline of Jodhpur.
Hurry! Limited spaces available; this small group tour only accepts 10 passengers!
Must book by: 05 Jan 2020
Price Per Person
per person based on double occupancy
Price is per person, based on double occupancy.
MUST BOOK BY: 05 Jan 2020.  Hurry! This small group tour accepts up to 10 passengers.
Fixed travel date: 22 Mar - 01 Apr 2020
Price above does NOT include airfare.
Price above already has the 35% discount within.
Delhi
Red Fort
River Yamuna
Chandini Chowk
Qutub Minar
India Gate
Nawalgarh
Shekawati
Bikaner
Junagarh Fort
Chattar Mahal Palace
Rajasthan
Jodhpur
Mehrangarh Fort
Umaid Bhawan
Jaipur
Amber Fort
Rajasthani fort Palace
Jag Mandir
Hawa Mahal
Maharaja's City Palace
Fatehpursikri
Taj Mahal
Agra
TRIP ITINERARY
Meet our representative upon arrival in Delhi on arrival. Check in into your hotel.
After breakfast, we will proceed towards Morning sightseeing of Old Delhi drives you past the magnificent Red Fort, - a marvel in red sandstone, built on the banks of River Yamuna by the Mughal emperor Shah Jahan. Visit Jama Masjid, - The largest mosque in India.
Experience a cycle rickshaw/pedi cab ride through Chandini Chowk, once an imperial avenue of Mughal Royalty which today is the busiest commercial area of the city.
Afternoon in New Delhi visit the 12th century Qutub Minar, gracefully hand-carved for its entire height of 234ft, and the iron pillar, which has withstood the ravages of time and not rusted even after 1500 years. Drive past the India Gate (war memorial dedicated to the lives of laid down by  the Indian soldiers), the president's residence - formerly the Viceroy's Palace, parliament House and the Secretariat buildings, - an interesting blend of the Victorian and 20th century architecture.
MAR 24: DRIVE DELHI-NAWALGARH (275KMS/APPROX. 06HRS)
After breakfast, drive to Nawalgarh, upon arrival visit the Shekawati region of Nawalgarh. It is renowned for the havelis, majestic forts and folklores. Nawalgarh renown to possess highest number of Shekhawati Havelis, famous ones are Roop Niwas palace Bansidhar Bhagwat Haveli, Anandi lal poddar.
MAR 25: DRIVE NAWALGARH-BIKANER (215 KMS/ APPROX. 5 HRS)
After breakfast checkout from hotel and drive to Bikaner. Evening is at leisure for independent activities.
MAR 26: DRIVE BIKANER-JODHPUR (265KMS/APPROX. 06 HRS)
Morning after breakfast checkout and visit Junagarh Fort, one of the most interesting forts in Rajasthan, with its sumptuously decorated interiors.  Built in 1588 by Raja Rai Singh it is unusual in the sense that it was one of the few major forts of Rajasthan that was not built on a hilltop. Instead, it was built on the desert plains; its rugged sandstone bastions and graceful pavilions and balconies are silhouetted against the sky. Also, visit Chattar Mahal Palace.
After visit drive to Jodhpur. On arrival check in into your hotel.
After breakfast checkout from the hotel and proceed for city tour  visit Mehrangarh Fort. This spectacular fort made from red sandstone stands on a perpendicular cliff above the skyline of Jodhpur followed by Jaswant Thada a marble cenotaph built to commemorate Maharaja Jaswant Singh II.
After this proceed to Umaid Bhawan.
MAR 28: DRIVE JODHPUR-JAIPUR (370KMS/APPROX. 6.5HRS)
After breakfast checkout from hotel and drive to Jaipur.
Morning visit Amber Fort with. Amber is a classic, romantic Rajasthani fort Palace. The rugged, time-ravaged walls of the Fort may not look beautiful from the outside, but the interior is a virtual paradise. Miniatures painted on the walls depict hunting and war scenes, apart from festivals. Precious stones and mirrors are embedded into the plaster.
Inside the Fort visit the Jag Mandir or the Hall of Victory. Inside the Jag Mandir is the famed Sheesh Mahal – a room with all the four walls and ceiling completely embedded with glittering mirror pieces, which were specially imported from Belgium during that period. En route to Amber Fort, you will have a brief photography stop at Hawa Mahal - the Palace of Winds.
Afternoon city tour begins with a visit to the Maharaja's City Palace, the former Royal residence, part of it converted into a museum. A small portion is still used by the Royal family of Jaipur. Built in the style of a fortified campus, the palace covers almost one-seventh in area of the city. One of the major attractions in the museum is the portion known as Armory Museum housing an impressive array of weaponry-pistols, blunderbusses, flintlocks, swords, rifles and daggers. The royal families of Jaipur once used most of these weapons. Later visit the Jantar Mantar, which is the largest stone and marble crafted observatory in the world. Situated near the gate of the city palace, the observatory has 17 large instruments, many of them still in working condition.
MAR 30: DRIVE JAIPUR-AGRA (255KMS/APPROX. 05HRS)
After breakfast checkout from hotel and drive to Agra. En-route visiting Fatehpursikri. The 'ghost' yet the City of Victory or Fatehpur (victory) Sikri (city), as it translates to in Persian, sounds paradoxical now. Approximately 30 miles west of Agra, Fatehpursikri was built by Emperor, Akbar between 1571 and 1573 AD but was later abandoned. In the modern day, Fatehpur Sikri features in the list of UNESCO's World Heritage Sites & is a fine living example of an amalgamation of various architectures' style. On the Jaipur-Agra highway Fatehpursikri is a must stop en route.
MAR 31: DRIVE AGRA-DELHI (210 KMS/APPROX 4.5HRS)
After breakfast checkout from hotel and visit the Taj Mahal … a mausoleum built as a symbol of Emperor Shah Jehan's devotion to his beloved queen Mumtaz Mahal. Considered an architectural marvel, its construction took thousands of workers over 21 years to complete. After visit back to hotel for breakfast and then checkout and proceed towards the Red Fort, which was commissioned in 1565 by Akbar. The beautiful yet forbidding structure is a handsome example of Mughal architecture.
After visit drive to Delhi, on arrival check in into your hotel.
APR 01: FINAL DEPARTURE DELHI
In time you will be transferred to Delhi airport to connect flight to Delhi.
Enquire Now!
about 35% Off India
Trip Code: INDI102TAM

Loading Terms & Condtions...
Experience
The Difference

With

Downunder Travel
Create Your Dream Vacation
At Downunder Travel you are not restricted to our ready-made packages.
We can customize and build a trip just for you!
What you need to know
Information and Facts
Search and find your
next adventure
See our reviews
Read our client reviews
Share Your Positive Experience