Intro to Cambodia
10 Day • Phnom Penh to Siem Reap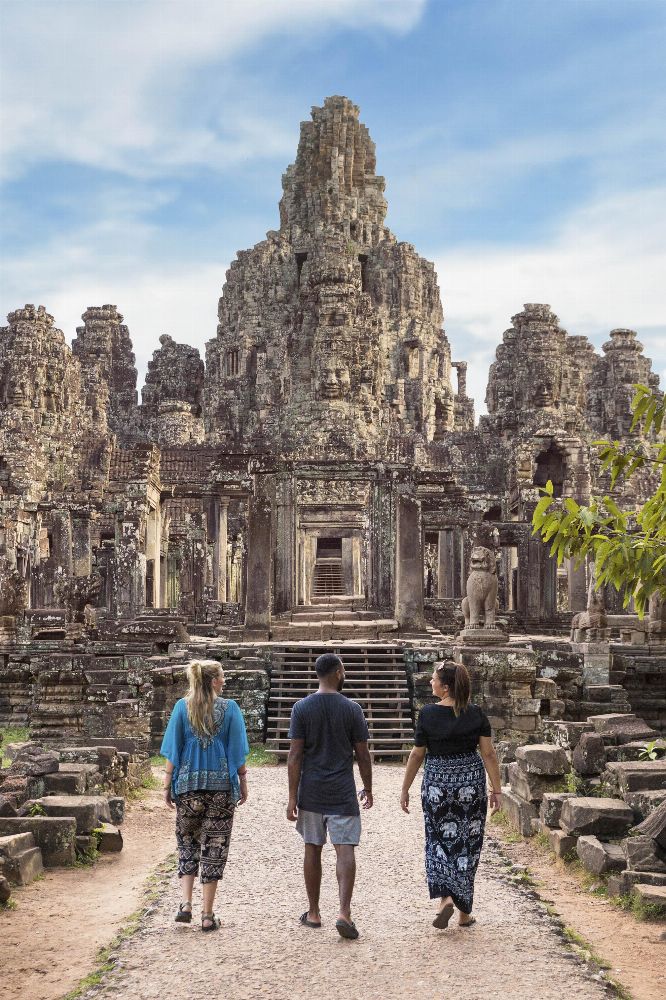 Bayon Walk, SiemReap, Cambodia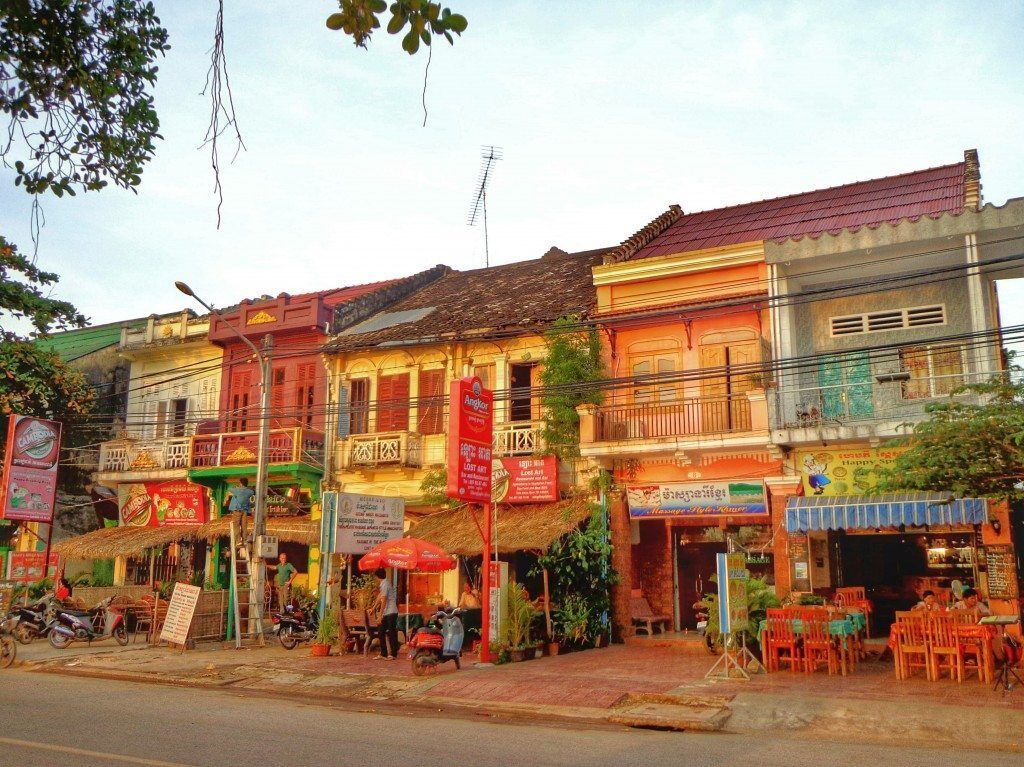 Kampot, Cambodia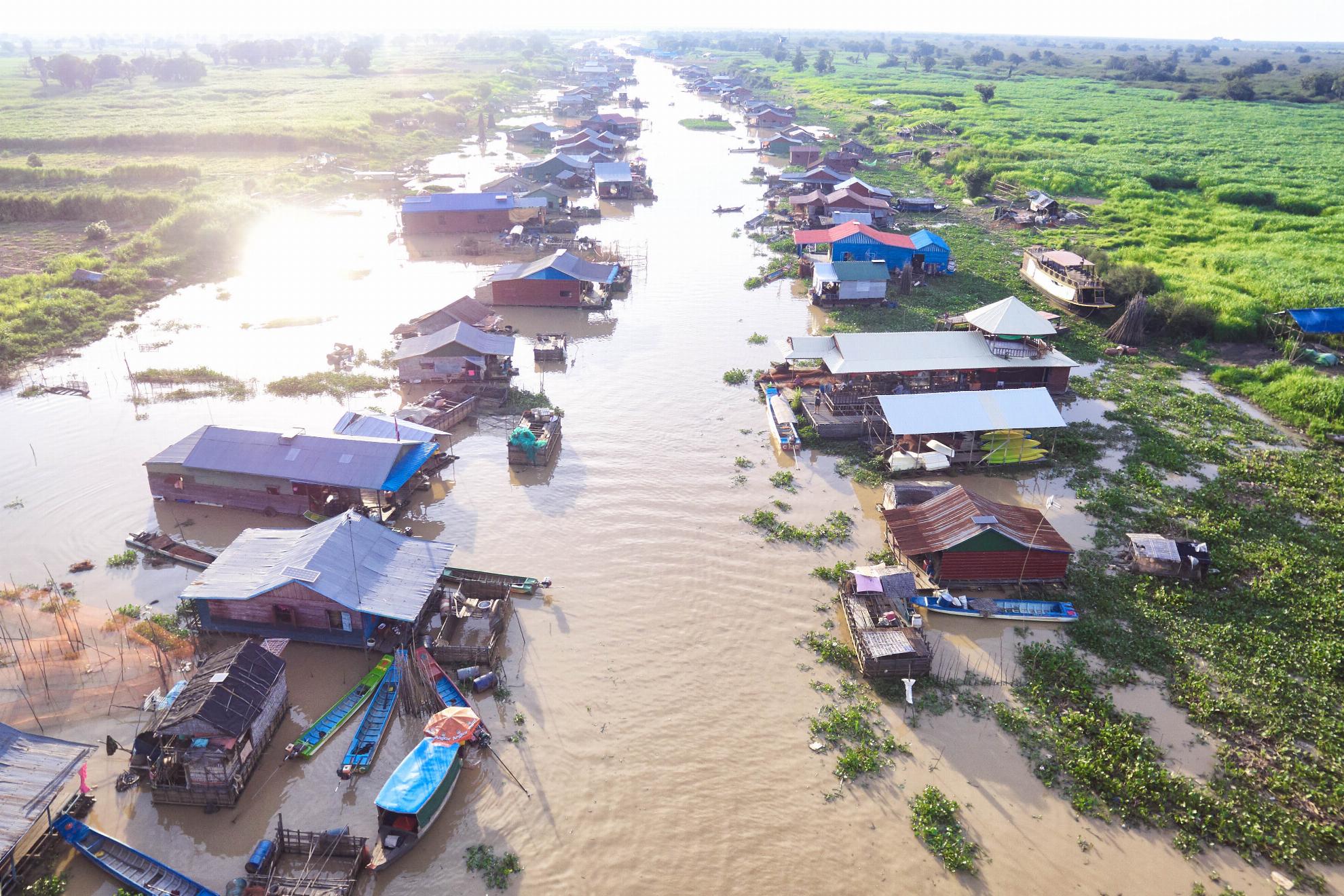 Floating Markets, Siem Reap, Cambodia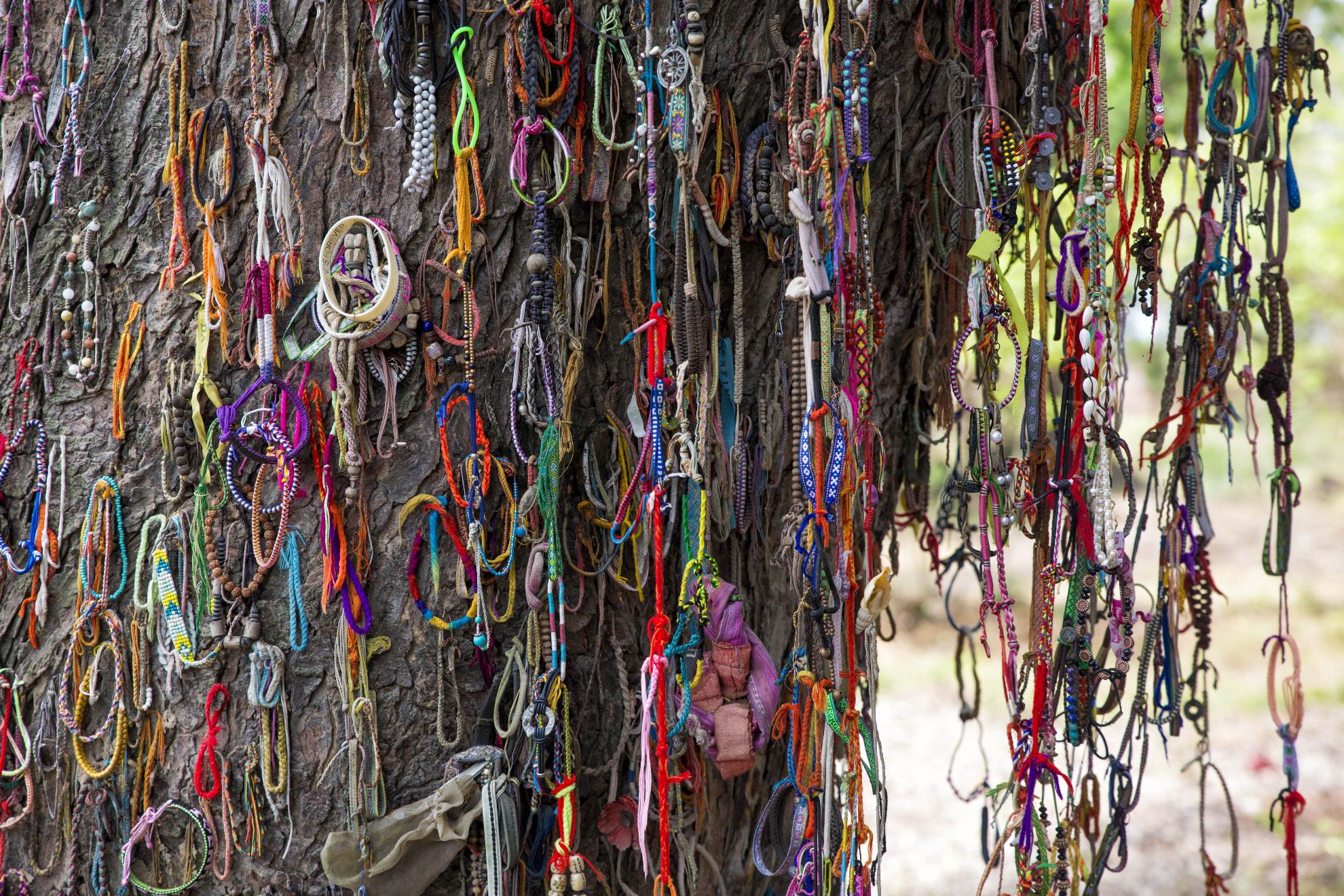 Killing Fields tree, Cambodia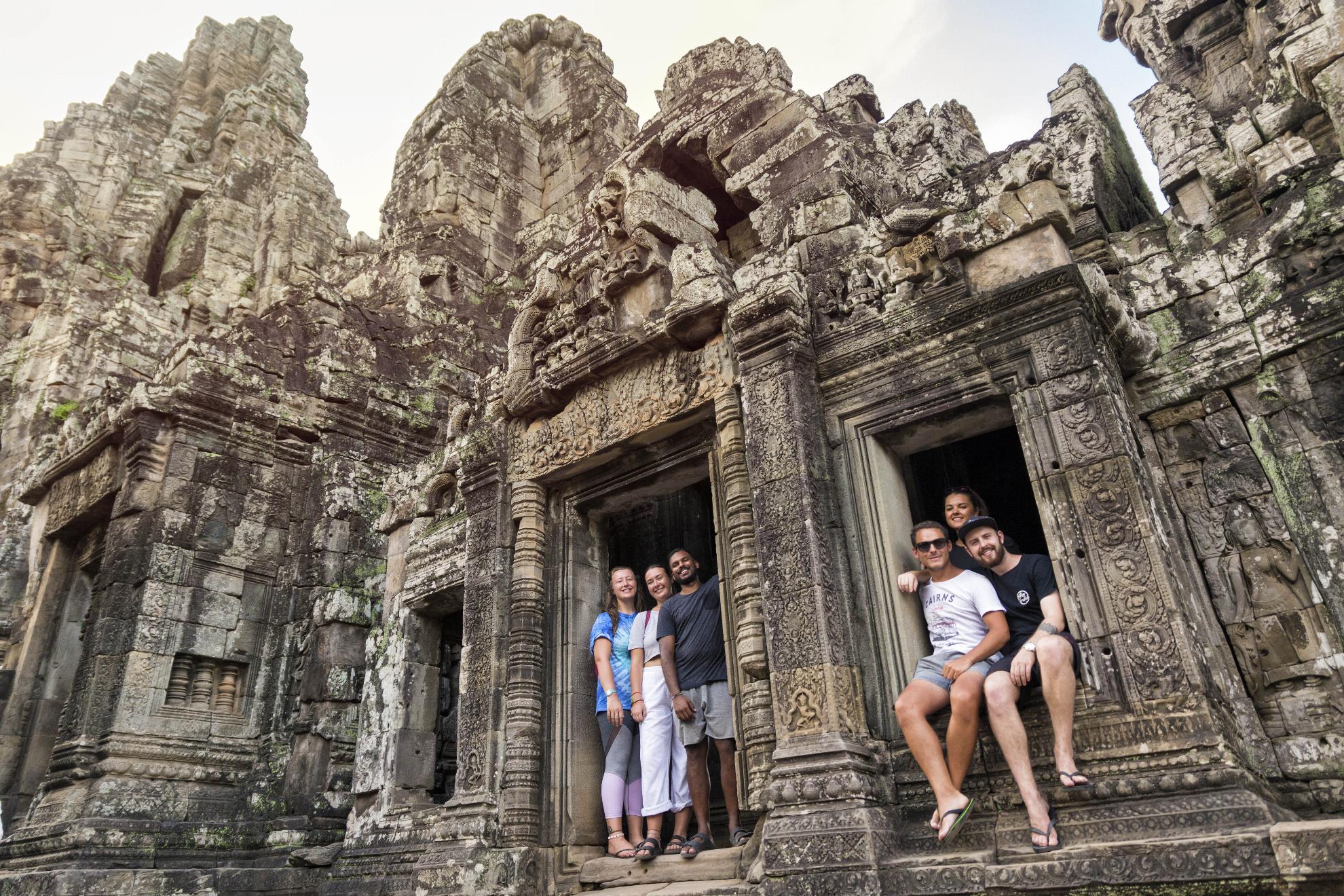 Angkor Wat, Siem Reap, Cambodia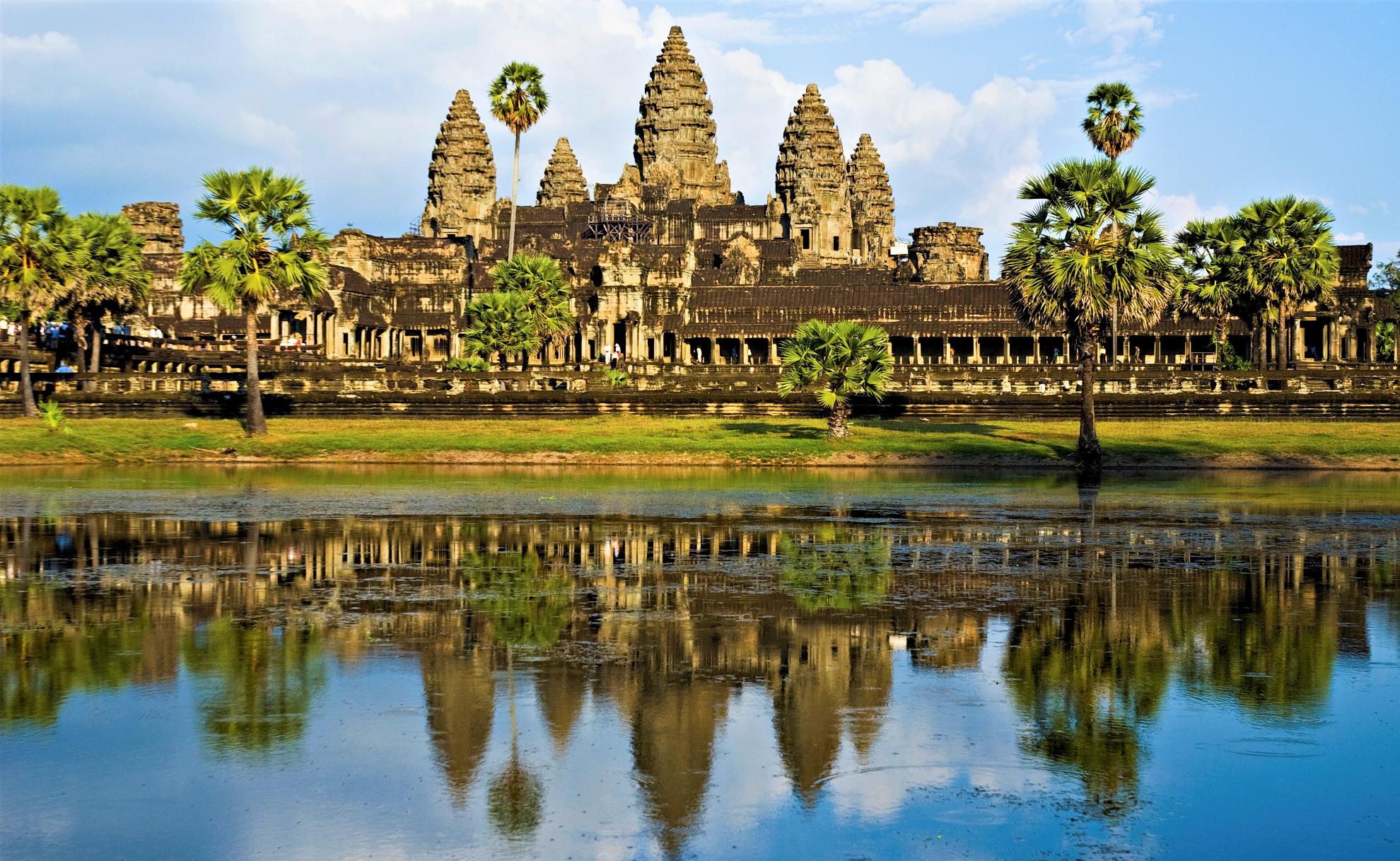 Cambodia

Intro to Cambodia
10 Day Guided Trip - Phnom Penh to Siem Reap
Experience stunning Cambodia over 10 action-packed days that'll take you from World Heritage listed sites to off the beaten track destinations and everywhere in between.
You'll discover the bustling capital of Phnom Penh via Tuk Tuk, experience the picturesque Koh Rong Island, visit the world's largest temple, Angkor Wat, discover the fascinating local culture and rich history and relax on beautiful beaches and party the night away and much more.
Cruising through the crazy streets of Phnom Penh by Tuk Tuk, meeting friendly locals and sampling a wide array of delicious street food, learning about Cambodia's dark history and fascinating culture, discovering the crystal clear waters and white sands of Koh Rong island and experiencing the incredible Angkor Wat are just some of the incredible moments you'll have backpacking in Cambodia.
Cambodia is a profoundly beautiful nation with a dark but fascinating past. Nestled in the heart of South East Asia it is a country of incredible & ancient wonders. From the white sands and lazily swaying palm trees of picturesque Koh Rong island, to the awe-inspiring and immensely spiritual Angkor Wat temple, Cambodia will leave an impression that will last a lifetime. The majority of our group members are solo travellers, so joining one of our group tours is a great way to meet people and make friends.
2020 Departure dates:
Sep 2, 8, 14, 19, 24, 29
Oct 7, 14, 21, 26
Nov 1, 13, 19, 24, 30
Dec 5, 11
WHERE WILL YOU VISIT?
Ride a tuk tuk
S21 Prison
Killing Fields
Kampot
Koh Rong pristine beaches
Angkor Wat
Siem Reap
Khmer cooking class
Longtail boat
TRIP ITINERARY
Intro to Cambodia
10 Day Adventure
Day 1: CAMBODIA INTRO BEGINS
When you land in Phnom Penh after your flight we'll be at the airport to meet you and take you to the hotel. You'll have plenty of time to recover from your flight, chill out and meet everyone in your group. That night we'll head out for our first dinner and drinks together.
Day 2: S21 PRISON AND KILLING FIELDS
After a tuk tuk tour through the crazy streets of Phnom Penh, we'll make two important stops at the S21 Prison and the original Killing Fields to learn about the dark history of this fascinating country. A difficult day, but a must to properly understand the journey of the Cambodian people in recent decades. That evening we'll head for dinner and drinks at a local street bar, followed by some of Phnom Penh's best nightlife. (B)
Day 3: KAMPOT, KAYAKING & SUNSET BOAT TRIP
Today we get off the beaten path and head to the peaceful countryside province of Kampot, a unique mix of dilapidated French colonial buildings, emerald green rice paddy fields and palm tree-lined rivers. The next two nights are spent by the beautiful riverside with plenty of time for swimming, tubing and relaxing. That afternoon we'll kayak down the river, soak up the laid-back daily life of the locals before heading out on a stunning sunset boat ride. (B)
Day 4: LOCAL MARKET, PEPPER PLANTATION & COOKING CLASS
Kampot is known to have some of the best pepper in the world! So this morning we'll explore the local markets and visit a unique pepper plantation to source ingredients for our traditional Khmer cooking class. Later that day we'll learn first hand how to make some of Cambodia's most authentic and delicious meals. (B, L)
Day 5: ARRIVE KOH RONG
It's now time to experience the most beautiful beaches in Cambodia! We'll take a bus and a fast ferry to the stunning tropical island of Koh Rong and check into our traditional Khmer style beach bungalows. The afternoon can be spent lazing on the beach or exploring the island before we head out for dinner and a party on the beach! (B, L)
Day 6: ISLAND BOAT TRIP & SNORKELLING
All aboard our private longtail boat to some of the best snorkel spots around the islands, including the famous and secluded 'long beach'. We'll chill out on the whitest sands on the island, swim in turquoise blue water and top up our tans, before soaking up a beautiful sunset as we cruise back home to our beach bungalows. (B)
Day 7: BEACH TIME, KHMER MASSAGE & OVERNIGHT BUS
Enjoy the morning relaxing with a traditional Khmer massage on the beach, take in the serene beauty of Koh Rong one last time before we catch the fast ferry back to the mainland. We'll have dinner in Sihanoukville and prepare for our overnight bus journey where you'll have your own bed on the bus. (B)
Day 8: SIEM REAP & FLOATING VILLAGE
Arrive early in Siem Reap with the morning to relax by the hotel pool. From there we'll venture out to the rural areas and discover some traditional floating villages surrounded by lush rice fields, lotus flowers and flooded forests. That evening we'll experience a unique and authentic Cambodian performance, which supports the education and improvement of the lives of the local children and families. (B, L)
Day 9: SEIM REAP & ANGKOR WAT
We'll wake for sunrise and travel by tuk-tuk to the absolutely mind-blowing and world famous Angkor Wat; the largest temple in the world! A local guide will join us to explain the fascinating history and surrounding temples, including Ta Prohm where Tomb Raider was filmed. A true once in a lifetime experience! (B, D)
Day 10: DEPART CAMBODIA
Your amazing 10-day adventure of Cambodia finishes in Siem Reap. We'll help you plan and organize your onward travel. (B)
ENQUIRE NOW!
about Intro to Cambodia
Trip Code: ASIA101REA

Loading Terms & Condtions...