7 Day Perth & Surrounds
7 Day • Quick Perth Getaway

Fremantle Fishing Boat Harbour

Perth, Western Australia

Rottnest Island, Western Australia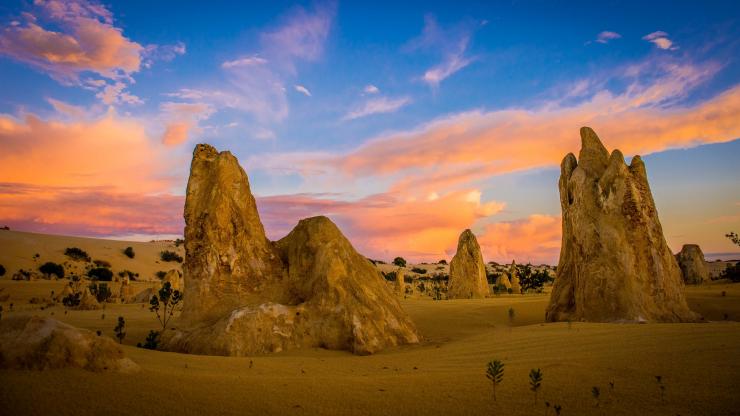 The Pinnacles, Western Australia

7 Day Perth & Surrounds
7 Day Short Break - Quick Perth Getaway
Come and meet the friendly Sandgropers (local West Australians) who always have smiles on their faces.  Other than the great locals, Perth offers a myriad of attractions which is impossible to have time for all.  This 7 Day inclusive package will take you on a Segway Tour through majestic Kings Park towering over the city and famous foreshore.  Another day will be spent at the famous Pinnacles Dessert. You will discover Fremantle, the heart of West Australian Maritime history and Yacht Racing.  Of–course no trip to Perth would not be complete without a wine tour to savor those amazing aromas found only in Western Australia.  This package takes in two wine regions, the close to Perth Swan Valley as well as the further afield Margaret River region.   Oh by the way, don't forget to get your Selfie with a Quokka while cycling around picturesque Rottnest Island.  Now you have experienced Western Australia! 
VALID FOR TRAVEL: 01 Feb – 31 Mar 2022
Pricing for Canucks
per person, based on double occupancy
Standard CA$1629.00 per person
Superior CA$1670.00 per person
Deluxe CA$1879.00 per person

Prices above are per person, based on double occupancy.  Subject to availability.
"Standard" refers to properties at a 3-star rating
"Superior" refers to properties at a 4-star rating
"Deluxe" refers to properties at a 5-star rating
Package Includes:
6 nights' accommodation, 5 excursions, all transfers and all taxes & fees.
Note: the mandatory Australian Travel Visa is included in the price
WHERE WILL YOU VISIT?
Perth
Western Australia
Swan Valley
Fremantle
Kings Park
Margaret River
Indian Ocean
Rottnest Island
TRIP ITINERARY
Arrive in and Depart from Perth
7 Day Adventure
Day 1: Arrive Perth
You will be picked up from the airport and taken to your hotel to check in.
Day 2: Rottnest Bike & Ferry Tour
You will be picked up from your hotel and transferred to Hillarys Boat Harbour where you will board a ferry to Rottnest Island.  The island is an A-Class reserve enjoying a semi-arid Mediterranean style climate with stunning coral reefs, crystal clear waters and unique wildlife.  Set off on a bike tour to explore Rottnest at your own pace and discover the beauty of Perth's scenic Sunset Coast.
Day 3: Kings Park & Botanic Gardens Guided Segway Tour
Renowned as one of the World's largest and most beautiful inner-city parks, Kings Park delights visitors with natural bush trails, open parklands, a stunning botanic garden and iconic views over the Perth city skyline. The tour departs from Barrack Street Jetty, meandering through the new Elizabeth Quay waterfront precinct before ascending Mt Eliza to reach the summit of Kings Park. The park's botanic garden is one of the best locations for wildflowers in Spring and iconic views over the Swan River year round. There's so much more to see of Kings Park on a Segway!
Day 4: Full-Day Pinnacles Tour
Your tour bus will drive into the Pinnacles Desert, and along a four-km trail where you will have the unique experience of walking among the fascinating phenomenon of the Pinnacles.  On this Western Australian Pinnacles Day Tour, the Pinnacles Desert contains thousands of limestone pillars, resembling an ancient ruin.  In geological terms, the Pinnacles are a modern phenomenon, beginning to form as 'recently' as three and a half million years ago, and appearing as they are today between two million and twenty thousand years ago. Astonishing!
Enjoy lunch in Cervantes. Drive to Thirsty Point to walk along the beautiful white sandy beaches, view sparkling aquamarine waters, and the nearby islands.
Day 5: Swan Valley Food and Wine Tasting
The Swan Valley is a 25-minute drive from Perth offering award-winning wineries, breweries, distilleries, confectionery outlets, restaurants and cafes.  You will be picked up from your hotel where you begin your journey to visit a range of the best venues the Swan Valley has to offer.  Stop for tastings at a chocolate factory, then munch the samples at Morish Nuts, which produces a variety of nuts flavored with caramel, wasabi, spices, abalone, and more. Sample the Italian-style soft nougat at the Mondo Nougat factory, and a variety of honey as well. You'll also visit renowned vineyards in the Swan Valley for wine tastings, then peruse the Maalinup Aboriginal Gallery to learn about aboriginal history and culture, and sample traditional bush food. Finally, learn about coffee production and sample some fresh brews.
Day 6: Full-Day Margaret River Food and Wine Tour
Enjoy a sociable and intimate experience of the Margaret River Wine region.  Sip your way from Morning Tea to Lunch visiting three wineries and enjoying a delicious lunch.  You'll also sample not only the region's best cuisine but talk to the wine maker and qualified wine experts of the winery's this tour visits.
Lunch highlighting modern Australian style cuisine is at Margaret River's founding wine estate Vasse Felix. Vasse Felix was established in 1967 by Dr Tom Cullity. Today Paul Holmes à Court represents the second generation of the Family who have owned and operated Vasse Felix since 1987. After lunch take a browse in the Art Gallery which has exhibitions of the renowned Janet Holmes à Court art collection.
Day 7: Depart
You will be picked up at your hotel and taken to the airport… why not stay longer?
ENQUIRE NOW!
about 7 Day Perth & Surrounds

Loading Terms & Condtions...