Great Migration Safari
15 Day • Small Group Lodge Safari - Tanzania & Kenya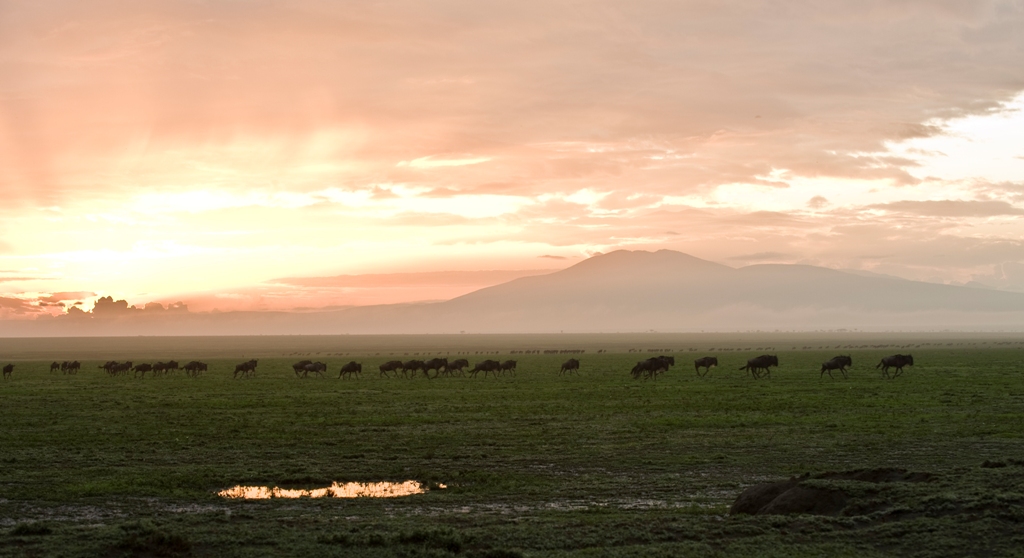 Masai Mara National Park, Kenya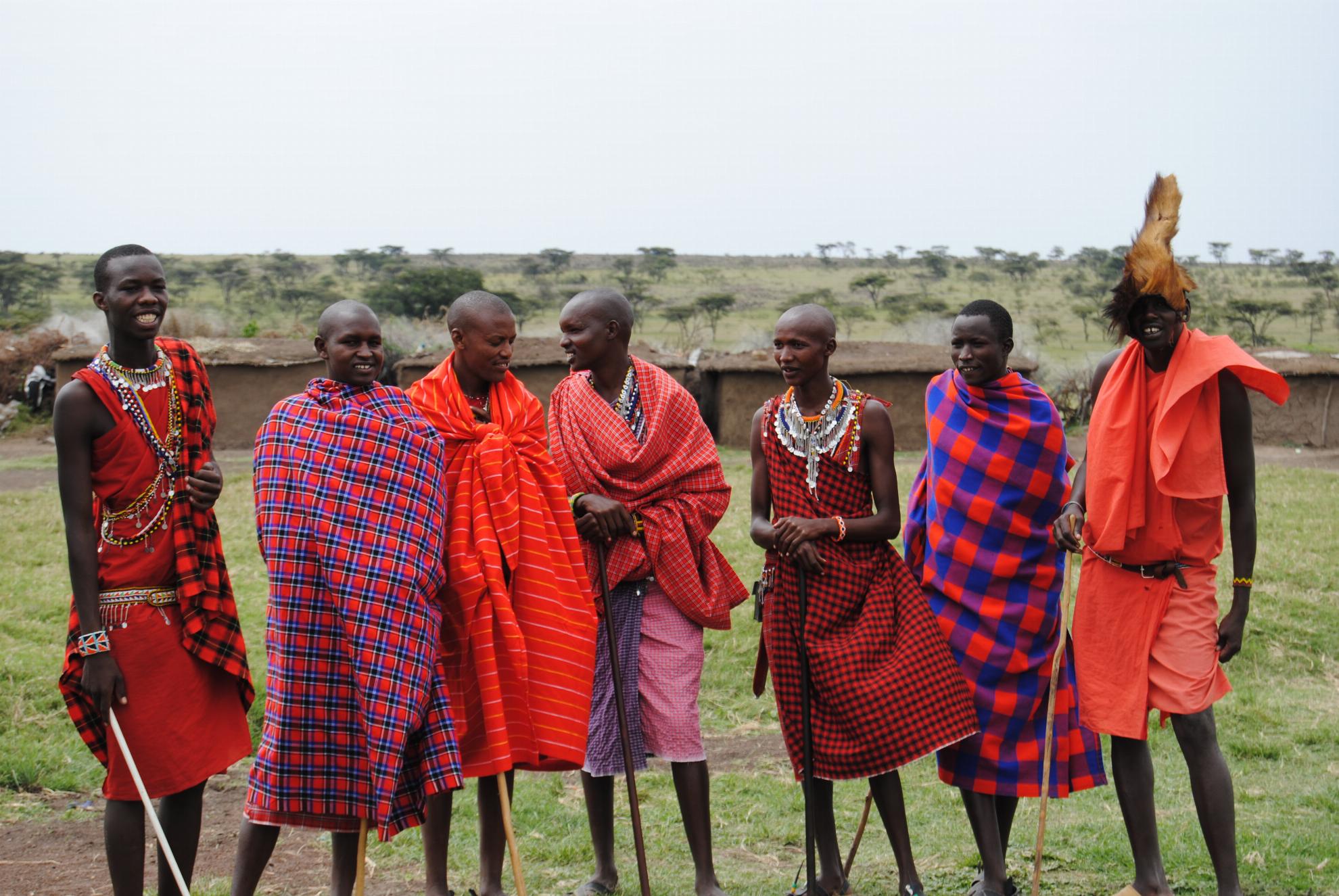 Masai Mara, Kenya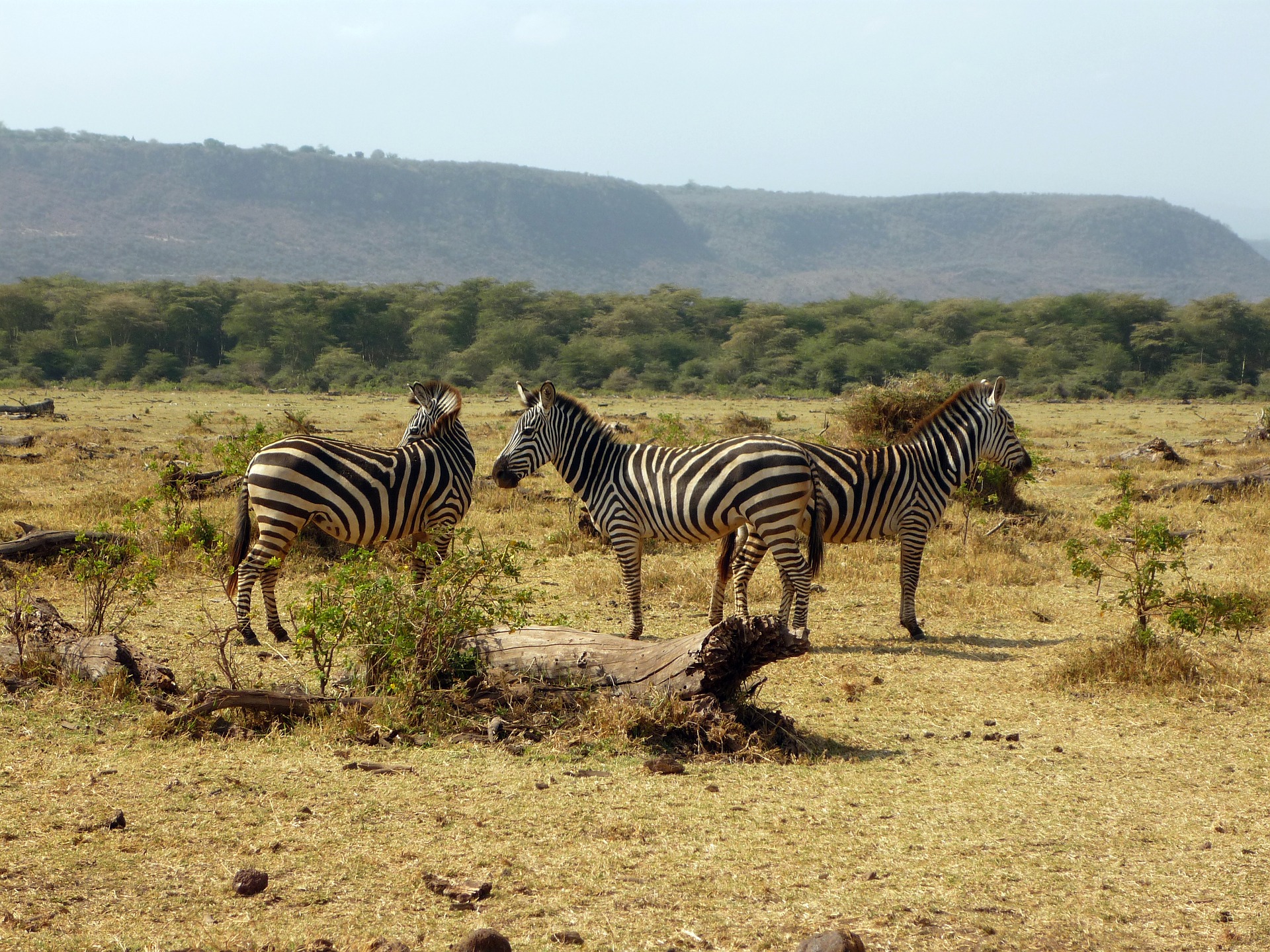 Zebra, Lake Manyara National Park, Tanzania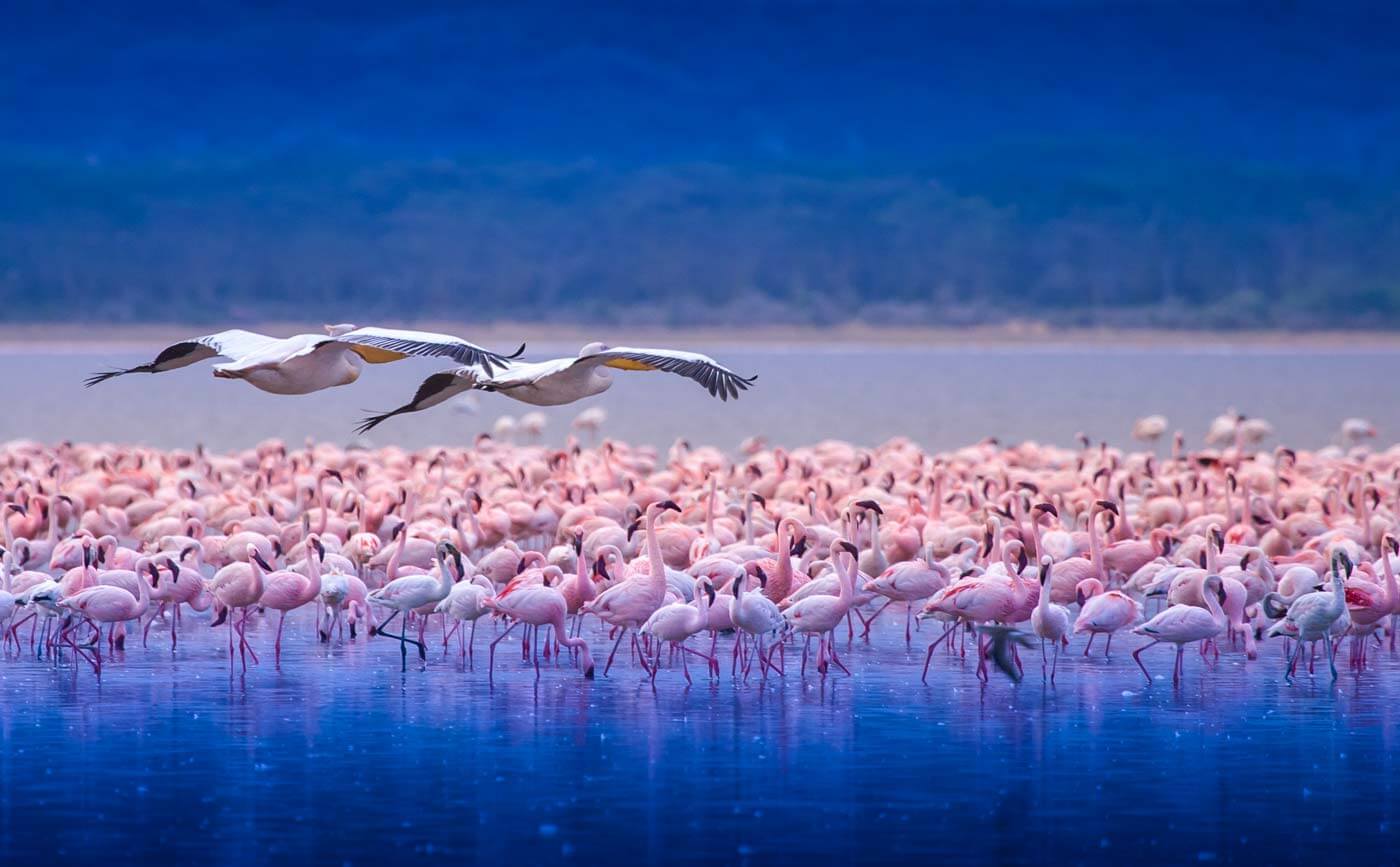 Flamingos, Kenya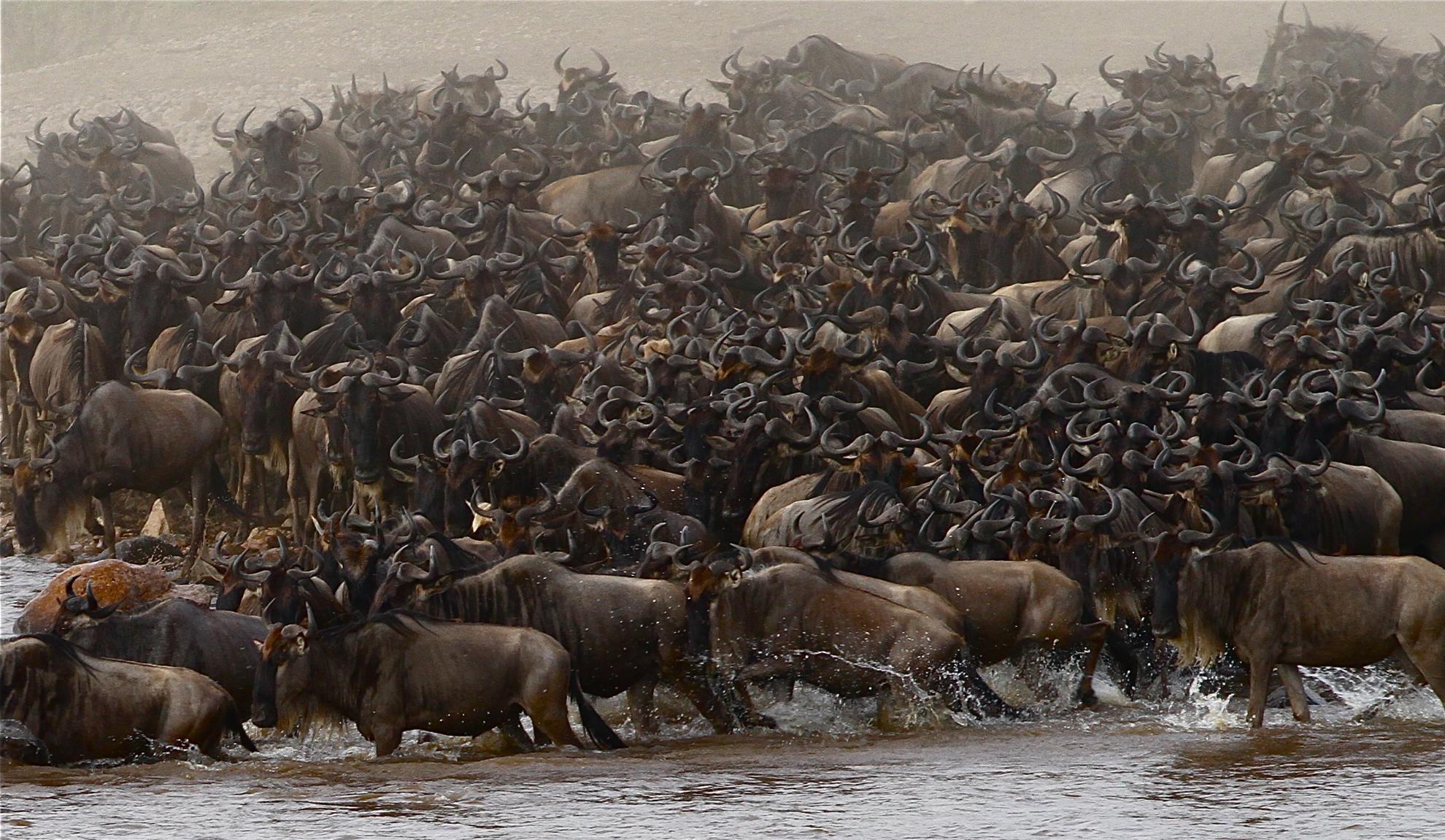 Wildebeest Migration, Serengeti National Park, Tanzania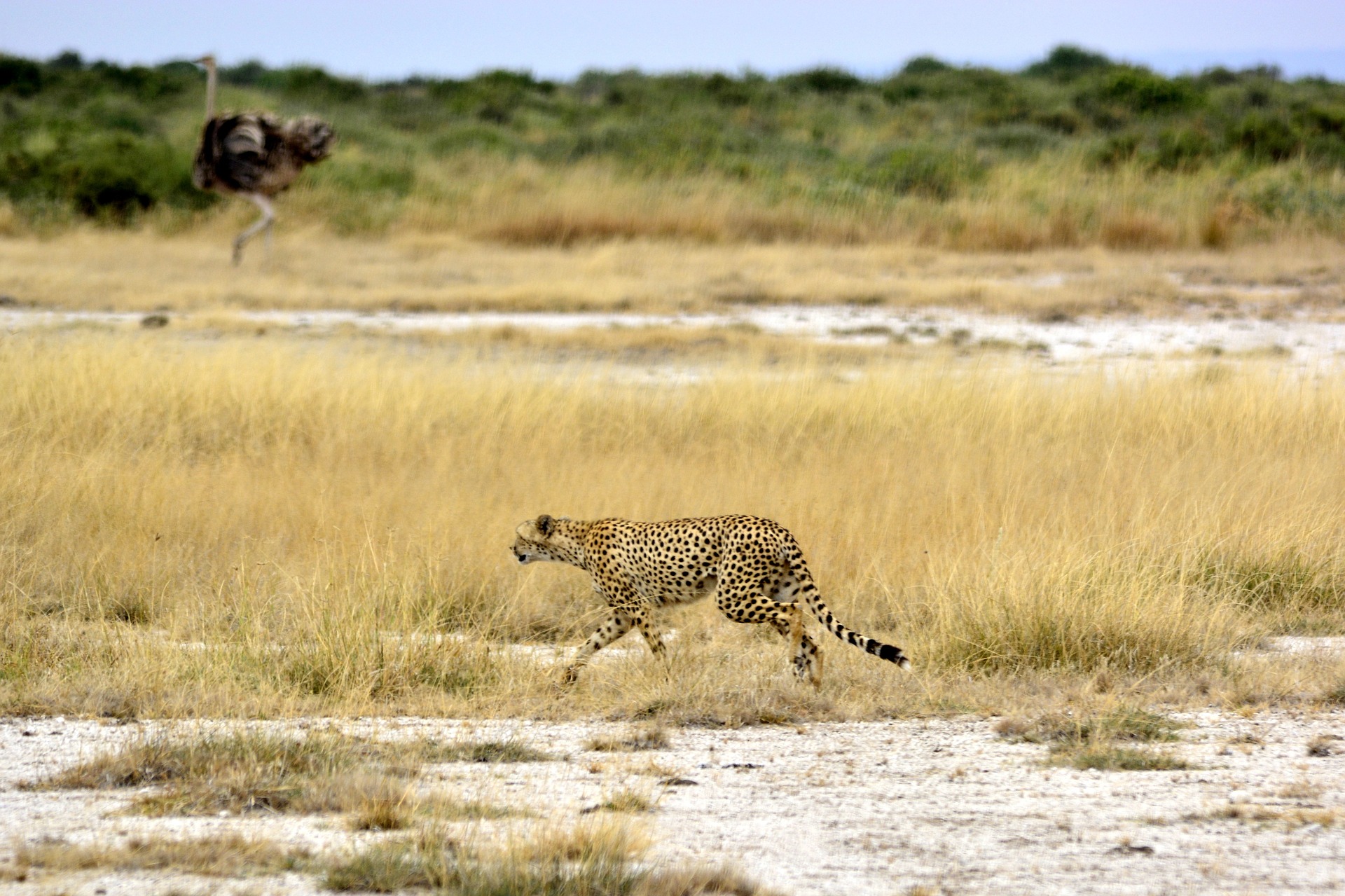 Cheetah, Amboseli National Park, Kenya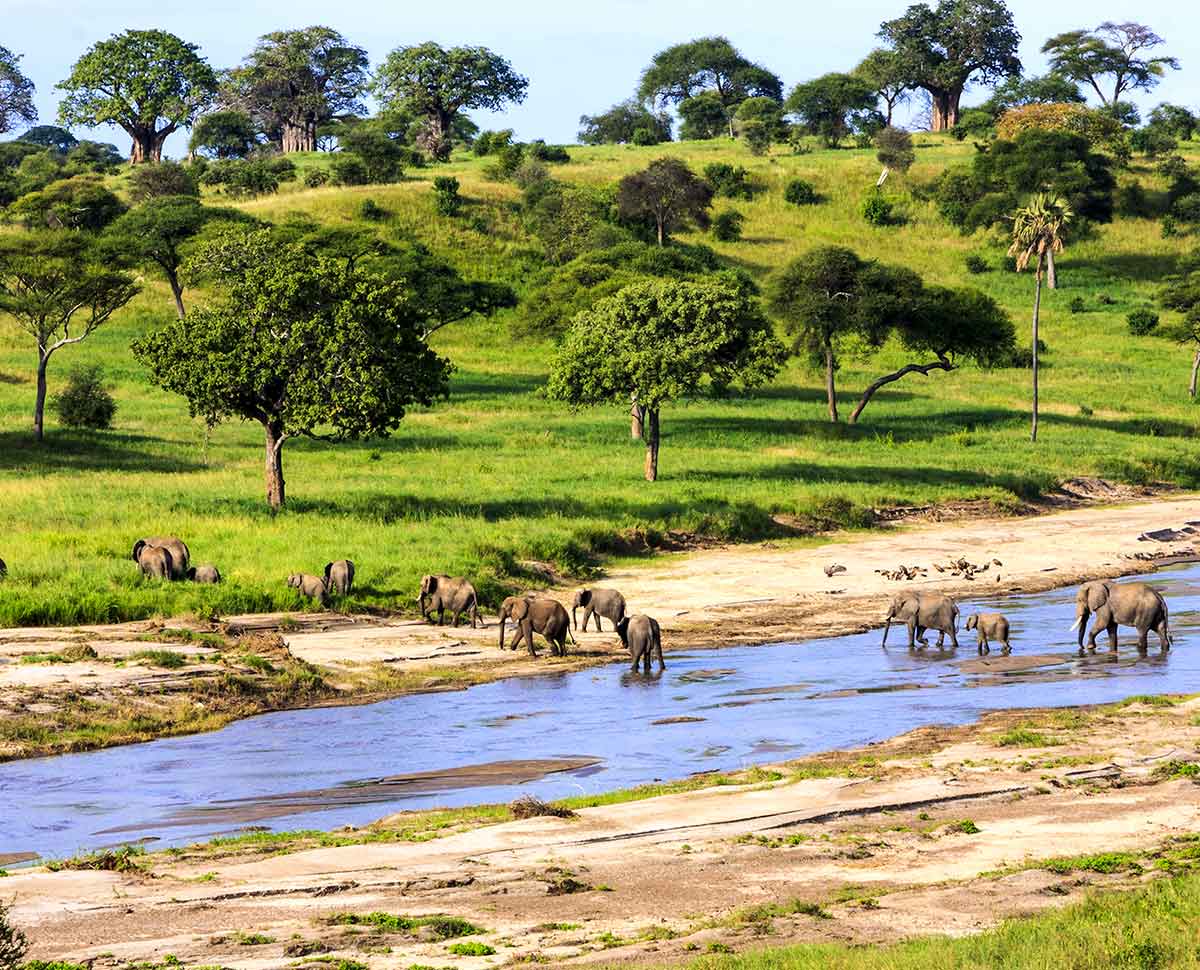 Elephants, Serengeti National Park, Tanzania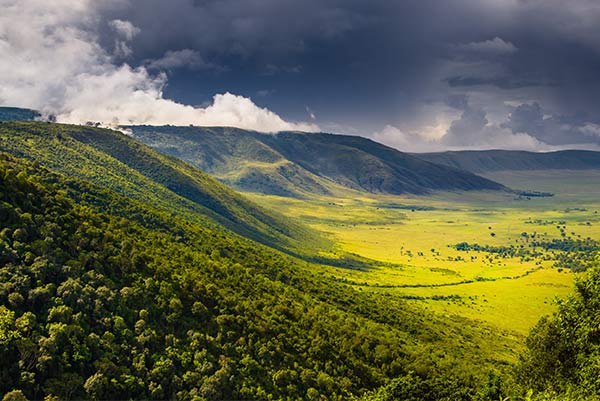 Ngorongoro Crater, Tanzania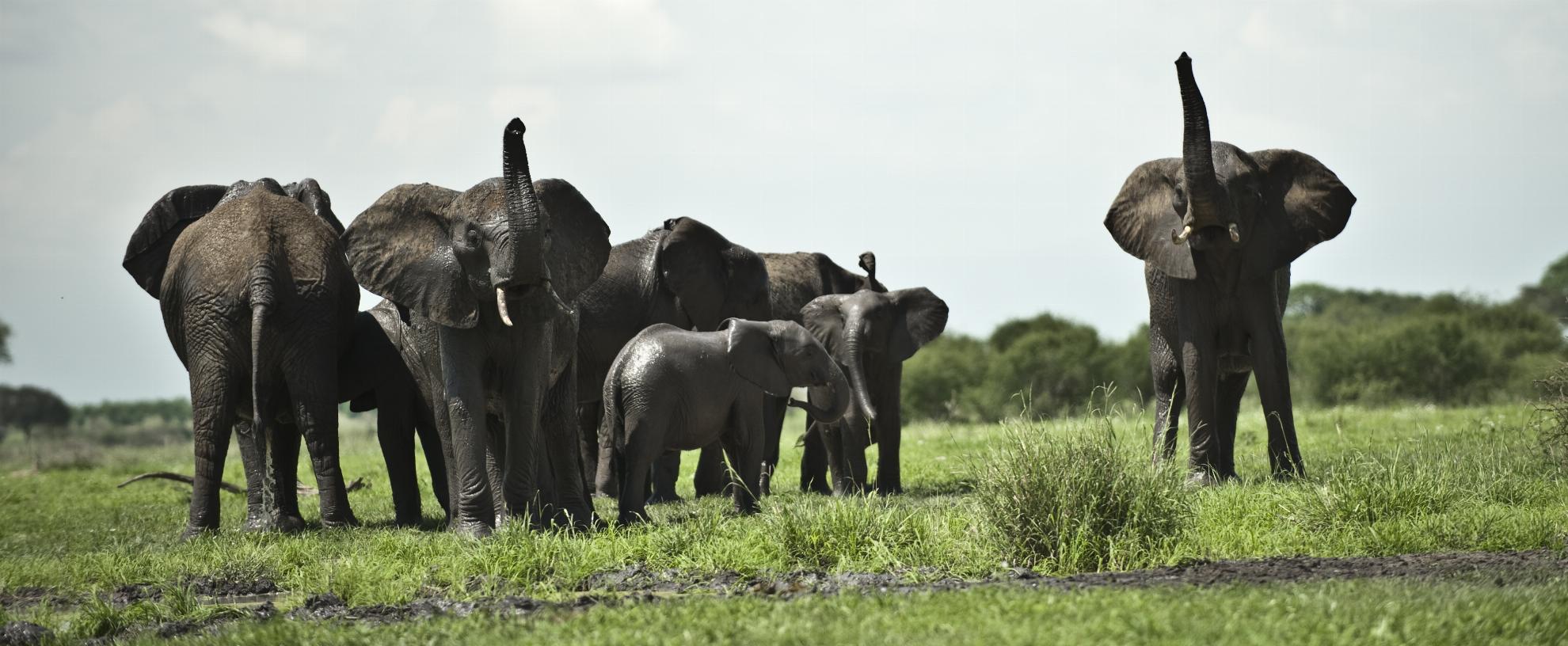 Elephants, Tarangire National Park, Tanzania

Great Migration Safari
15 Day Tour - Small Group Lodge Safari - Tanzania & Kenya
East Africa Wildlife Extravaganza
The ultimate way to experience East Africa, one of the most spectacular wildlife destinations in the world! Almost 2 million animals roam the plains of East Africa, but it can be surprisingly hard to find them in the vast area that they cover as their movements are governed by the rains and predicting their location can be a gamble.
This itinerary is designed to include areas frequented by the migration on their annual route. Your small-group guided safari stays in lodges & permanent tented camps. The tour starts and ends in Nairobi and includes the major highlights of Tanzania and Kenya including Amboseli, Lake Manyara, Tarangire, Ngorongoro Crater and Serengeti.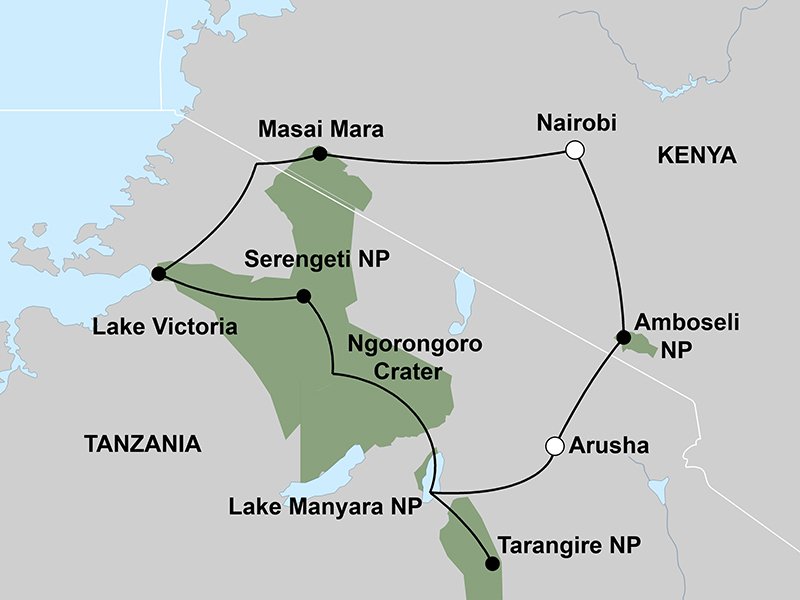 15 Day Great Migration Safari
per person based on double occupancy
2023 Departure Dates: 
May 6,  Jun 3, 24
Jul 10, 30,  Aug 8, 18,  Sep 3, 22
Oct 7, 13,  Nov 18,  Dec 9
Note: There is also a reverse version of this tour with additional departure dates departing from Arusha
Subject to availability
Safari includes: Small group tour, 14 nights Lodge & Tented camp style accommodation, airport transfers, transport and games drives per itinerary & experienced local guide
Meals included: 14 Breakfasts, 13 Lunches, 14 Dinners
Price includes park fees and a donation to the Grow Africa Foundation
Call us for Single Traveller Rates or for travel alternate dates
WHERE WILL YOU VISIT?
Nairobi
Amboseli
Marangu
Arusha
Lake Manyara
Mto wa Mbu Village
Tarangire
Ngorongoro Crater
Serengeti NP
Lake Victoria
Masai Mara
TRIP ITINERARY
Small Group Lodge Safari - Tanzania & Kenya from Nairobi to Nairobi
15 Day Adventure
Day 1: Arrive Nairobi, Kenya
On your arrival at Jomo Kenyatta International Airport in Nairobi you will be met and transferred to your hotel.  Nairobi is the Capital of Kenya and the social hub of Africa. Street markets and shops can be found all around this energetic city and discovered on day one after you arrive. Nairobi also has a thriving nightlife.
Meals included: Dinner
Day 2: Nairobi to Amboseli National Park (Kenya)
Explore Nairobi today with a visit to the Karen Blixen Museum, a historic farmhouse where the author of "Out of Africa" lived in 1917-1931. Head to the Giraffe Centre and Animal Orphanage, where the baby animals are brought from the national park for a mud-bath at the orphanage. After lunch, travel to Amboseli National Reserve.
This region has distinct terrain, the dry lake beds amongst swamps and these offer the most amazing contrasts and plenty of game with over 80 mammal species.
Meals included: Breakfast, Lunch & Dinner
Day 3: Amboseli National Park (Kenya)
Travel into the Amboseli National Park for a full day of game viewing in one of Kenya's most famous parks. This area is known for its huge elephant bulls with their magnificent tusks, which make for the ultimate Kenya safari experience. Look for magnificent African wildlife with picturesque Mount Kilimanjaro in the background.
Meals included: Breakfast, Lunch & Dinner
Day 4: Amboseli (Kenya) to Arusha (Tanzania)
Travel to the Tanzania border and to Arusha. On the way you will stop to hike to the Marangu waterfalls. This is a moderately strenuous walk, but well worth the effort at the foothills of Mount Kilimanjaro. Continue to Arusha via Moshi town – the gateway to the Kilimanjaro National Park.
Meals included: Breakfast, Lunch & Dinner
Day 5: Arusha to Tarangire National Park (Tanzania)
Get ready for an amazing day of game drives in Tarangire National Park. You will see breathtaking views of the Maasai Steppe and the mountains to the south, and stop at Tarangire which is well known for its huge elephant population and baobab trees. This is the centre of an annual migratory cycle that includes up to 3000 elephant, 25,000 wildebeest and 30,000 zebra!
Meals included: Breakfast, Lunch & Dinner
Day 6: Tarangire to Manyara National Park & Karatu (Tanzania)
Enjoy a scenic drive through Lake Manyara National Park, a reserve at the north-western corner of Lake Manyara. This area is known for having large flocks of flamingos and also the elusive tree climbing lions.
The main landmark Lake Manyara N.P. is the spectacular rift wall where the plains give way to the cultivated uplands of Mbululand. The Great Rift Valley in East Africa is part of a fault in the earth's crust that stretches 8,000km from Turkey to the mouth of the Zambezi River. It is so large that astronauts can see it clearly from space.
Meals included: Breakfast, Lunch & Dinner
Day 7: Karatu & Lake Manyara (Tanzania)
Venture local colourful town Mto-wa-Mbu today, starting at the market and visiting a Chagga family producing banana beer.  You will pass through farmland and learn about the various fruits and vegetables growing in the area as well as the irrigation system that sustains local crops. After a delicious, home-cooked meal in a traditional homestead, you will visit to a Maasai Boma for the cultural encounter of a lifetime. The Masai people are semi-nomadic herders who choose to live a traditional lifestyle and are known for their distinctive traditional attire. Learn the customs and traditions of this mesmerizing and distinctive tribe. They are one of the most iconic and easily recognizable ethnic groups of East Africa.
Late afternoon you will take a walking tour to magnificent Lake Papyrus filled with abundant birdlife and hippos. If time allows, you may do some light trekking to the waterfall where you can view the lake on top of the Rift valley wall before visiting a local village.
Meals included: Breakfast, Lunch & Dinner
Day 8: Karatu to Ngorongoro & Serengeti National Park (Tanzania)
You set out early today for a game drive in the world renowned Ngorongoro Crater. For many, this wildlife spectacle is the highlights Africa journey. The Ngorongoro Crater boasts all of the 'Big 5', including a small population of endangered Black Rhino. The Ngorongoro Conservation area covers approximately about 8300 sq.km.  The Ngorongoro Crater has the perfect mix of safari animals, stunning scenery and fascinating history. Next to the famous crater is the Olduvai Gorge – an area where many fossils have been unearthed.
Then, head towards the Serengeti through the stunning Southern Plains. This is the area that the Serengeti is best known for – the endless, undulating grass savannah with rocky outcrops that serve as isolated wildlife refuges.
Meals included: Breakfast, Lunch & Dinner
Day 9: Seronera Area, Serengeti National Park (Tanzania)
Truly an iconic park, the Serengeti's abundance of wildlife has numbers estimated at well over 3 million. Spend two days exploring the great plains, home to the largest annual animal migration – every year, over 2 million wildebeest migrate from the Serengeti to the Masai Mara Reserve in Kenya.
The Serengeti is divided into three main areas. Today is spent game driving around the Seronera area of the Serengeti, which is the most central and accessible region and where the Park headquarters is based. This part of the Serengeti is filled with open plains of grassland, packed with animals. The Seronera River is the lifeblood of the Serengeti and this area is renowned for great game viewing all year round. It is also particularly good for lion and cheetah sightings, as well as the most elusive of all big cats, the Leopard.
Meals included: Breakfast, Lunch & Dinner
Day 10: Serengeti National Park (Tanzania)
Another exciting day exploring Serengeti National Park, scanning the endless plains, spotting many animals and discovering just why this national park is so famous!
Meals included: Breakfast, Lunch & Dinner
Day 11: Serengeti National Park to Lake Victoria (Tanzania)
Travel to Lake Victoria today passing through the villages of the Sukuma tribe who grow ground nuts, sorghum and cassava as well as keeping livestock. This afternoon is free to spend at your leisure, or to possibly take a bird-viewing walk along the lake shore. Lake Victoria is Africa's largest lake and the largest tropical lake in the world.
Meals included: Breakfast, Lunch & Dinner
Day 12: Lake Victoria (Tanzania) to Masai Mara (Kenya)
This morning you have the chance to take a boat excursion to one of the local fishing villages, before continuing the journey northwards across the border into Kenya. Here we head to the Masai Mara, one of the world's premium wildlife destinations.  This is also the traditional land of the Maasai people who are nomadic traditional herders who are permitted to live and graze their cattle in this protected area of Kenya.
Meals included: Breakfast, Lunch & Dinner
Day 13: Masai Mara National Reserve (Kenya)
Today you will spend the whole day game viewing in the world famous Masai Mara National Park. The habitats in this protected area are home to a great variety of game including Lion, Leopard, Cheetah, Zebra, Wildebeest (Gnu), Giraffe, Buffalo, Jackal, Topi, Gazelle, Impala and Elephant. Hippopotamus and Crocodile are also plentiful in the rivers and the bird life is very abundant.
Meals included: Breakfast, Lunch & Dinner
Day 14: Masai Mara to Nairobi (Kenya)
After breakfast, you will journey back towards Nairobi. On arrival, you can choose to have the afternoon at your leisure or to explore the city. If time allows, you may visit the Kazuri Beads Centre and workshop for those interested in shopping locally made bead souvenirs. Kazuri means "small and beautiful" in Swahili.
Meals included: Breakfast, Lunch & Dinner
Day 15: Depart Nairobi, Kenya
Your Tanzania and Kenya safari finished today, you will be transferred to Nairobi Airport for your flight.
Meals included: Breakfast
---
Looking to explore other parts of Africa? We have a selection suggested of Africa Vacation Adventures:
Africa Group Safari Tours:
Wild Botswana & Zimbabwe – 11 DaysBotswana & Zimbabwe Highlights – 15 DaysUltimate Africa – 21 DaysSouth Africa Garden Route – 8 DaysThe Spectacular South – 15 DaysAfrica Overland Safari – 20 DaysBest of South Africa – 20 DaysWild Tanzania – 7 DaysWild Uganda Gorilla Adventure – 11 Days
Africa Camping Safaris
Heart of Africa – 13 DaysAfrica Explorer – 13 DaysKilimanjaro Trek & Wildlife Safari – 11 Days
Africa Tailormade Vacations
Madagascar Beaches & Lemurs – 10 DaysCape Town & Sabi Sand Private Game Reserve – 7 DaysCape Town & Kruger – 7 DaysZimbabwe Victoria Falls & Hwange – 6 Days
Africa Road Trips
South Africa Garden Route Road Trip – 6 Days
---

ENQUIRE NOW!
about Great Migration Safari
Trip Code: AFR2310

Loading Terms & Condtions...