Wild Tanzania Tour
7 Day • Small Group Lodge Safari - Arusha, Serengeti, Ngorongoro Crater, Lake Manyara, Tarangire

Serengeti, Tanzania


Lake Manyara National Park, Tanzania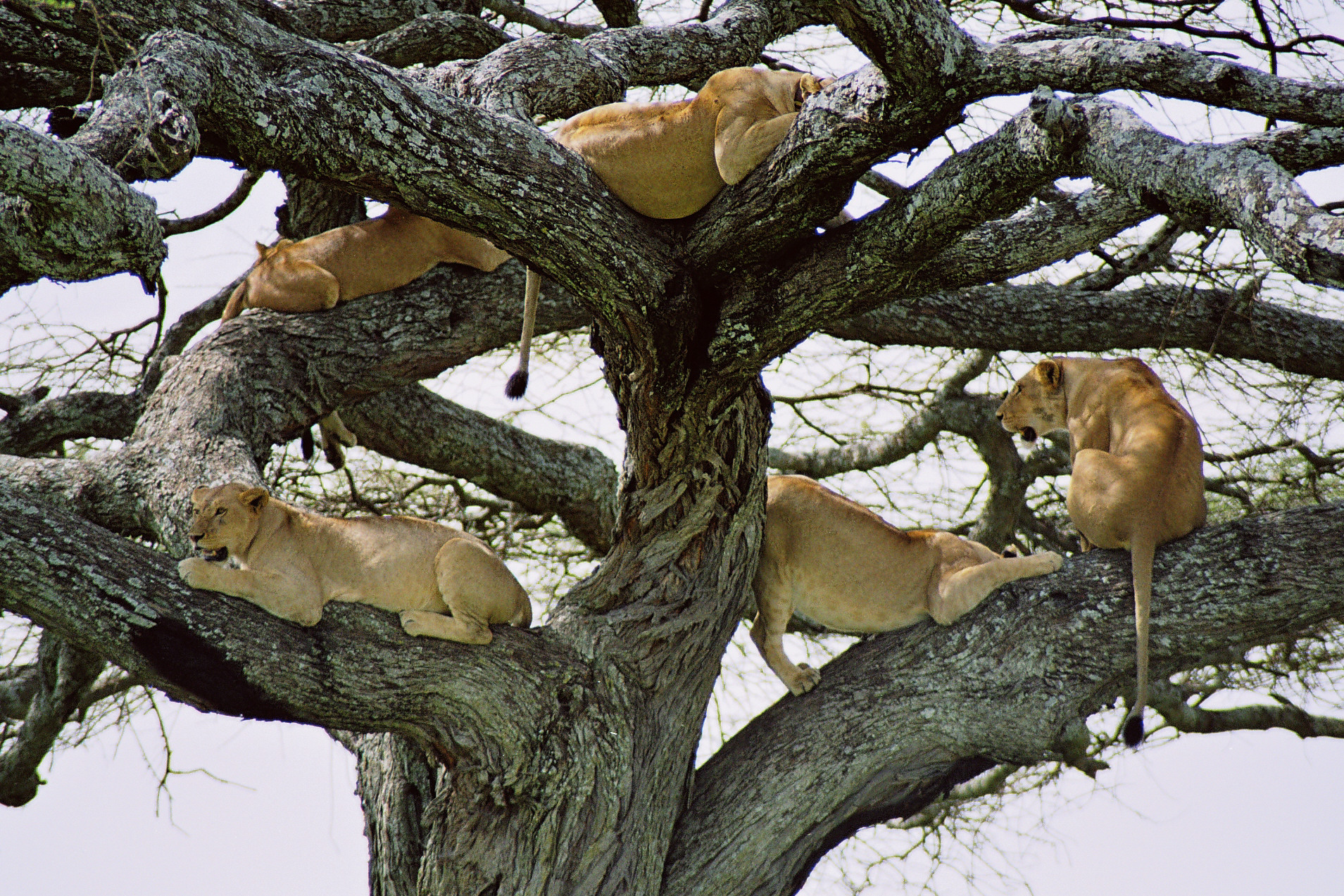 Lake Manyara National Park, Tanzania


Ngorongoro Crater, Tanzania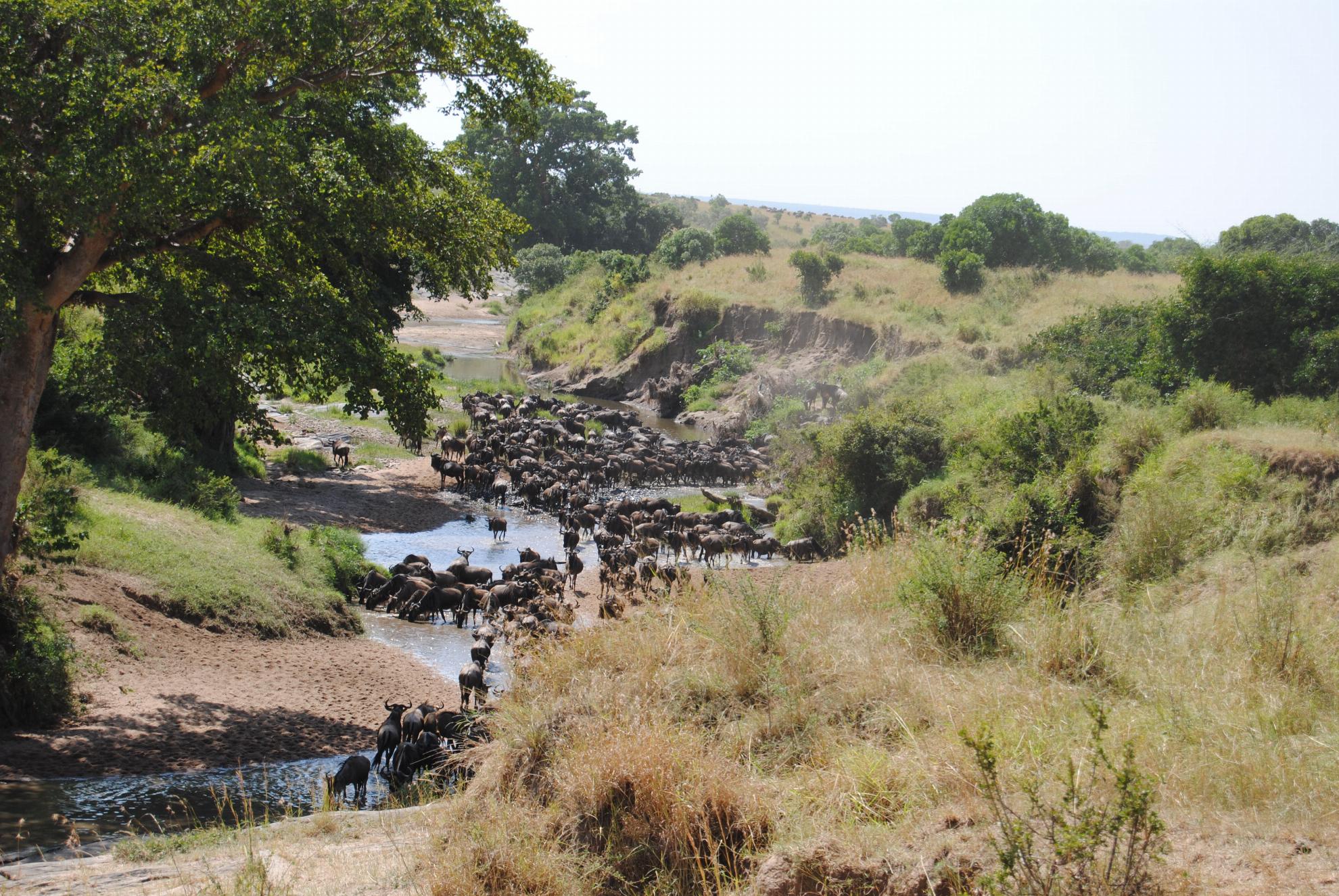 Wildebeest Migration, Tanzania


Serengeti National Park, Tanzania

Wild Tanzania Tour
7 Day Tour - Small Group Lodge Safari - Arusha, Serengeti, Ngorongoro Crater, Lake Manyara, Tarangire
Enjoy the Tanzania wildlife during the day and spend your nights in comfortable safari lodges
Discover the best of northern Tanzania wildlife parks on this small group lodge safari. With nearly 40% of the country's land area protected for the preservation of wildlife, a  safari in Tanzania is the ultimate experience. These untamed landscapes have biodiversity like nowhere else.
The Serengeti is a stage for the Great Migration, the biggest overland event of its kind anywhere in the world with more than a million Wildebeest and thousands of Zebra and Gazelles tempting fate in search of greener pastures. Following close behind are predators like lions, hyenas, and crocodiles, eager to stake their claim in this journey of life and death.
Tanzania also has variety of geographic extremes, from the highest peak in Mount Kilimanjaro to the lowest point in the lake bed of Lake Tanganyika and a portion of the largest lake in Lake Victoria on the African continent.  There is also the highest density of big game anywhere in Africa in the Ngorongoro Crater.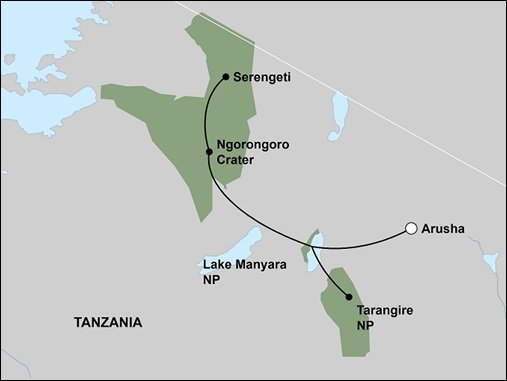 7 Day Wild Tanzania Tour
per person based on double occupancy
2023 Departure Dates
Feb 12,  Mar 11
Apr 29,  May 27,  Jun 17
Jul 1 & 17,  Aug 20,  Sep 10 & 24
Oct 9 ,  Dec 16
Subject to availability
Tour includes: Small group tour, 6 nights Accommodation in lodges and permanent tented camps, transfers, transport and game drives per itinerary
Meals included: 6 Breakfasts, 6 Lunches, 6 Dinners
Price includes park fees and a donation to the Grow Africa Foundation
Contact us for rates for Single Travellers
WHERE WILL YOU VISIT?
Arusha
Lake Manyara NP
Tarangire NP
Serengeti NP
Ngorongoro Crater
TRIP ITINERARY
Small Group Lodge Safari - Arusha, Serengeti, Ngorongoro Crater, Lake Manyara, Tarangire
7 Day Adventure
Day 1: Arrive Arusha, Tanzania
Welcome to northern Tanzania, on arrival you will be met at Arusha Airport and transferred to your boutique hotel in the heart of Arusha. Depending on your arrival time, you will have an opportunity to explore the lodge grounds, go for a dip in the swimming pool or take one of the optional activities available (activities this day, additional expense). Distance travelled today is approximately 250km.
Meals included: Dinner
Day 2: Arusha to Tarangire National Park and Manyara
Today your safari begins, the first stop is Arusha town, for any last minute purchases before heading off . Arrive in  Tarangire National Park for lunch and an the head off on an exciting afternoon game drive.
Tarangire forms the centre of an annual migratory cycle that includes up to 3000 elephant, 25,000 wildebeest and 30,000 zebra is well known for its huge elephant population and baobab trees.   Distance travelled today is approximately 250km / 4-5 hours.
Meals included: Breakfast, Lunch & Dinner
Day 3: Manyara National Park
Today kicks off with an early morning game drive in the spectacular Lake Manyara National Park . Located at the north-western corner of Lake Manyara, a hallow soda lake, Manyara NP is not only known for its large flocks of flamingos, but also for the elusive tree climbing lions. Distance travelled today is approximately 120km / 3-4 hours.
Meals included: Breakfast, Lunch & Dinner
Day 4: Manyara to Serengeti National Park
After breakfast, drive up the Rift Valley escarpment towards the world famous Ngorongoro Crater. For many, this wildlife spectacle is the pinnacle of their safari experience. The Ngorongoro Crater boasts all of the 'Big 5', including a small population of endangered black rhino.
This afternoon, head towards the Serengeti through the stunning southern plains. This is the area that the Serengeti is best known for – the endless, undulating grass savannah with rocky outcrops that serve as wildlife refuges.  Distance travelled today is approximately 400km / 6-7 hours.
Meals included: Breakfast, Lunch & Dinner
Day 5: Serengeti National Park
Spend a fully day game driving around the Seronera area of the Serengeti. The Serengeti is divided into three main areas: Seronera is the most central and accessible region and where the Park HQ is based. This part of the Serengeti is characterised by open plains of grassland, packed with animals. The Seronera River is the lifeblood of the Serengeti and this area is renowned for great game viewing all year round. It is also particularly good for lion and cheetah sightings, as well as the most elusive of all big cats, the leopard.
Meals included: Breakfast, Lunch & Dinner
Day 6: Serengeti National Park to Ngorongoro Crater and Lake Manyara
Enjoy a morning game drive through the Serengeti before we continuing through the Ngorongoro Conservation Area, visiting Olduvai Gorge. Distance travelled today is approximately 200km / 5-6 hours.
Meals included: Breakfast, Lunch & Dinner
Day 7: Lake Manyar to Arusha
Explore the colourful town of Mto-wa-Mbu for some last minute pictures and curio shopping, then travel to Arusha where the tour will end. Distance travelled today is approximately 250km / 3-4 hours.
Meals included: Breakfast & Lunch
---
Looking to explore other parts of Africa? We have a selection suggested of Africa Vacation Adventures:
Africa Group Safari Tours:
Wild Botswana & Zimbabwe – 11 DaysBotswana & Zimbabwe Highlights – 15 DaysUltimate Africa – 21 DaysSouth Africa Garden Route – 8 DaysThe Spectacular South – 15 DaysAfrica Overland Safari – 20 DaysBest of South Africa – 20 DaysThe Great Migration – 15 DaysWild Uganda Gorilla Adventure – 11 Days
Africa Camping Safaris
Heart of Africa – 13 DaysAfrica Explorer – 13 DaysKilimanjaro Trek & Wildlife Safari – 11 Days
Africa Tailormade Vacations
Madagascar Beaches & Lemurs – 10 DaysCape Town & Sabi Sand Private Game Reserve – 7 DaysCape Town & Kruger – 7 DaysZimbabwe Victoria Falls & Hwange – 6 Days
Africa Road Trips
South Africa Garden Route Road Trip – 6 Days
---

ENQUIRE NOW!
about Wild Tanzania Tour
Trip Code: AFR2309

Loading Terms & Condtions...