Travel-Themed March Break Activities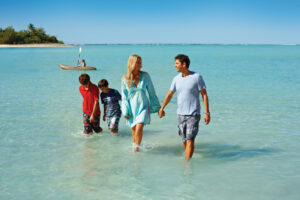 With travel restrictions still in place during the upcoming March break, or spring break, here are some activities – with a travel twist! – that you can do with your family while altogether at home.
1. Get creative! – From buying one of Australian's 24,000 native plant species from a local gardening shop to plant in your home garden to learning to make a Tahitian flower crown, or printing out black-and-white images featuring popular landmarks to colour or paint in, the possibilities of finding your inner artist while still dreaming of travel are endless!
2. Get moving and grooving! – Whether it's dancing along with The Wiggles – an Australian children's music group – with your kids, taking an online dance lesson from The Australian Ballet, or even keeping active with an online Cook Islands' Ura Fitness class, putting a travel or cultural spin on your fitness routine might help keep the motivation going.
3. Order some delicious cuisine – Ordering food, snacks or beverages from a local restaurant that offers delicacies from the destinations you'd like to visit is a great way to taste the flavours of the country you plan to travel to someday. Alternatively, if you enjoy cooking, you can also learn to make a traditional recipe from scratch.
4. Get into a good TV show or movie – If you've got some time to kick back and relax, why not stream an entire Australian series on Netflix such as "Offspring", "Wentworth" or "Secret City" or some Aussie and New Zealand Netflix movies like "The Breaker Upperers" or "Ladies in Black"?
5. Embark on a daily virtual tour – there are a variety of online tours and exhibits such as live streams from Sea Life Sydney that you can take in Australia or in the destinations of your choice, including museum tours and online performances. We're currently selling tickets to virtually tour The Sydney Opera House, which includes a live Q&A after the tour.