Africa & Seychelles
20 Day • NCL Cruises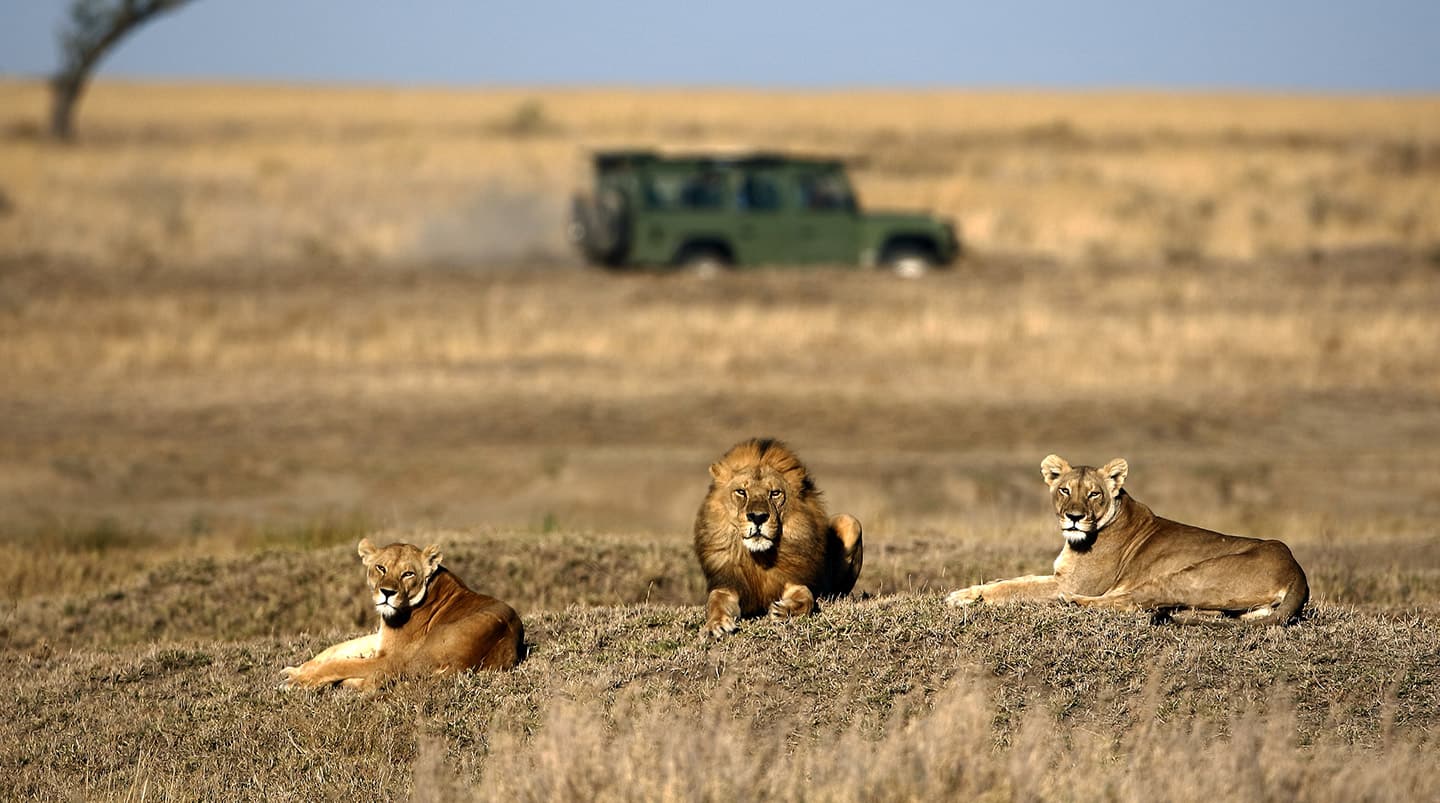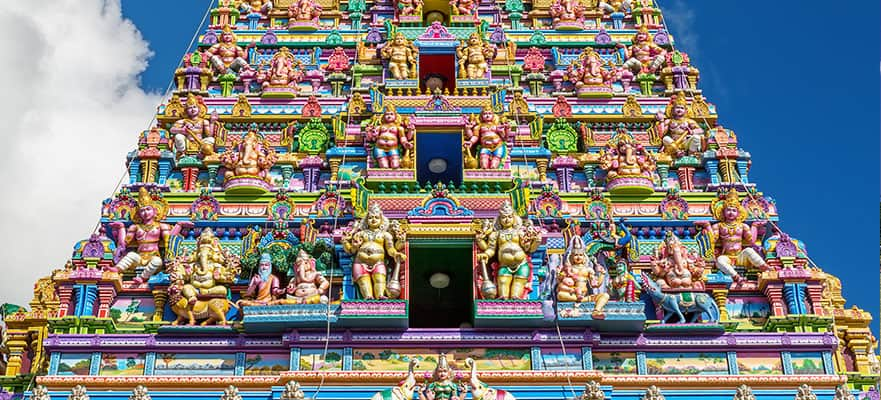 Africa & Seychelles
20 Day Cruise Holiday - NCL Cruises
20-Day Norwegian Cruise Line
20-Day African Safari & Seychelles Cruise | 10 ports
Your journey begins in South Africa's oldest city, Cape Town. While you're here, take a 5-minute cable car ride up Table Mountain and be rewarded with unforgettable views of the city and Camps Bay. Love wine? Vineyards abound in the Cape region. Richards Bay boasts the deepest natural harbour on the continent, so this port is an active one. Wetlands make it a birding paradise and its golden shores are revered by beach-goers. Looking to see big game? Tour one of several game reserves. As soon as you arrive in Mahé, you'll see why it's a top pick of honeymooners. Everywhere you look are incredible shades of blue and green. Hike the lush national parks. Dive the azure waters with gentle whale sharks. Relish the picturesque beaches. Since you're here overnight, make time to shop for black pearls.
Sailing date: 01 March 2021 | Departs: Cape Town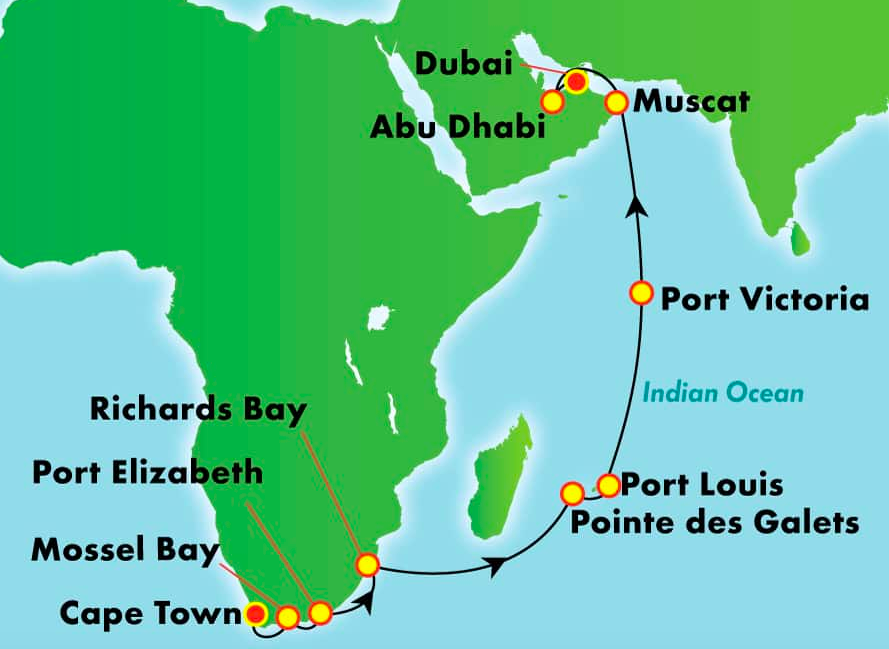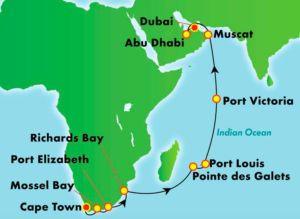 Oceanview
per person based on double occupancy
Departure dates:
01 March 2021
Package Inclusions:
Cruise from Cape Town to Dubai
All transfers to and from sites and ship
All taxes & fees
Prices do NOT include airfare.  Prices above are per person, based on double occupancy. 
Rates are subject to availability at time of booking.  Many other stateroom costs are available too, please ask your friendly Downunder Travel Destination Specialist for other options available.
WHERE WILL YOU VISIT?
Cape Town
Mossel Bay
Port Elizabeth
Richards Bay
Pointe des Galets
Port Louis
Port Victoria
Muscat
Abu Dhabi
Dubai
TRIP ITINERARY
20 Days: Cape Town to Dubai
20 Day Adventure
Day 1
Cape Town, South Africa
04:00 PM Embark
Cape Town is both the legislative capital of South Africa and one of its most vibrant cities. Make your way to the top of Table Mountain for panoramic views of the surrounding city and harbour. Visit Robben Island to see the former site of the notorious former prison that held Nelson Mandela. Explore the manicured lawns and beautiful forest in Kirstenbosch National Botanical Gardens. Then stop by the V&A Waterfront for some shopping and entertainment.
Day 2
Mossel Bay, South Africa
08:00 AM – 05:00 PM
Located along the Southern Cape, Mossel Bay is one of South Africa's most popular tourist destinations. Sink your toes into the sands of Santos Beach. Hike up the trail to the Cape St. Blaize Lighthouse where the 19th century structure provides stunning views of the surrounding area. Learn about the earliest humans at the Point of Human Origins archaeological site. Then explore the more recent cultural heritage at the Bartolomeu Dias Museum.
Day 3
Port Elizabeth, South Africa
07:00 AM – 08:00 PM
Port Elizabeth is one of South Africa's major municipalities and bears the nickname "The Friendly City." Relax on beautiful King's Beach. Spot some big game at the Kragga Kamma Game Park nature reserve. Explore the rich history of South Africa's Eastern Cape at the Donkin Reserve. Try local dishes like potjiekos, an indigenous stew cooked outdoors in a cast-iron pot.
Day 4
At Sea
Day 5
Richard's Bay, South Africa
05:00 AM – 11:59 PM
Situated on the deepest natural harbour in the Southern Hemisphere, Richard's Bay will thrill both nature and culture seekers. Spend the day walking through the Umlalazi Nature Reserve where you might see one of the rarest birds of pray in South Africa, the Palm-Nut vulture. Catch some sun or some waves at Aklantstrand Beach or learn about South African history and art at the Empangeni Museum.
Day 6
At Sea
Day 7
At Sea
Day 8
At Sea
Day 9
Pointe Des Galets, Reunion
08:00 AM – 08:00 PM
With its lush rainforests and beaches bordering coral reefs, Pointe des Galets, Réunion will dazzle you with its natural splendour. This island in the Indian Ocean is a French department and is known for Piton de la Fournaise, a climbable active volcano that rises to 8,635 ft. When you're not hiking through the Bélouve Forest or laying back on l'Hermitage beach, you can visit the Aquarium of Réunion or stop by the Jardin de l'Etat, a botanical garden opened in 1773.
Day 10
Port Louis, Mauritius
08:00 AM – 08:00 PM
Lose yourself in the Mauritian capital of Port Louis. Named after a former French emperor, this port city was a major point of passage for ships sailing around the Cape of Good Hope. Visit the famous Champs de Mars race track. Learn about the local history and culture at the Blue Penny Museum. Walk through the gorgeous foliage in Les Jardins De La Compagnie. Then stroll along the Caudan Waterfront to check out the shops, restaurants and famous Chinese Pagoda.
Day 11
At Sea
Day 12
At Sea
Day 13
Port Victoria, Seychelles
08:00 AM
Take a sabbatical in the Seychelles capital of Victoria. Located on Mahé Island in the Indian Ocean, it's famous for its exports of vanilla and coconut oil. Take a stroll through the Seychelle National Botanical Gardens full of flora, fauna and fruit bats. Stop by the Selwyn-Clarke Market for some street shopping. Try some local Ladob, a dish that can be served either sweet or savory. Then settle in for some sun at Beau Vallon Beach or visit the Navasakthi Vinayagar hindu temple.
Day 14
Port Victoria, Seychelles
04:00 PM
Day 15
At Sea
Day 16
At Sea
Day 17
At Sea
Day 18
Muscat, Oman
07:00 AM – 03:00 PM
View Muscat from above by travelling on the Corniche and head out along the scenic Batinah coast. The medieval Nakhl Fort, perched on a rocky outcrop, offers magnificent views of the mountains and oasis below. The colourful Sultan's palace and the Jelali and Merani forts are worth visiting, and if you seek to experience Omani culture, a stroll through the markets and narrow alleys is ideal. Exquisite local silver jewelry, exotic spices and handicrafts abound in the markets to tempt shoppers.
Day 19
Abu Dhabi, United Arab Emirates
10:00 AM – 11:59 PM
The world's richest city boasts a wealth of culture, history and adventure, from the emirate's old souks, where you can sip a fragrant Arabic coffee, to the rush of the world's fastest rollercoaster. This 5,000-year-old metropolis is a fascinating mix of modern architecture and atmospheric back streets. Put your bargaining hat on for a friendly faceoff with the merchants at the souk to get deals on handicrafts, artwork, even spices and dried fruit for the cook back home.
Day 20
Dubai, United Arab Emirates
06:00 AM
Experience the blending of traditional Arab culture and modern western culture in Dubai. Gaze skyward to see the tallest building in the world, the 2,722-feet-high futuristic Burj Khalifa tower, or walk over to the impressive Jumeirah Mosque. Seek out jet-set haunts or stroll through the heart of the old city, Dubai Creek, which is home to the Dubai museum as well as the labyrinth alleyways of gold, spice and textile souks, where bargaining is part of the fun and ritual.
ENQUIRE NOW!
about Africa & Seychelles

Loading Terms & Condtions...